Scripture:
Reflection: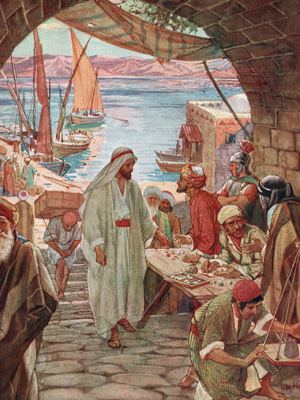 This periscope is a typical vocation story. Jesus comes upon a Tax Collector called Levi. The observers are startled that Jesus would be seen with such a person. The reason for this is that tax collectors receive this job with the approval of the Roman Oppressors, and by a difficult lottery process. In a way Tax Collectors are trusted neither by the Roman Officials nor by the Jewish leadership. This position as a Tax Collector. leads to extortion, and abuse. Males 14-16 and Females 12 -65 are charged, Ground taxes are charged, and wine and oil are charged. Animals are taxed, axials on carts, wagons, are taxed. The list goes on forever.
Tax collectors have a quota in collections. What happen. s is that if the Roman quota is met, extortion is commonplace. Hence, the reason the Jewish leaders are unhappy when Jesus chooses Tax Collectors as his Guests for the meal.
The Pharisees are disturbed because Tax Collectors are usually associated with other questionable characters such a Pro titutes, Robbe s, etc. When Jesus invited them to j in his community of disciples the Jewish leaders are even more upset.
In the Gospel of Matthew where Matthew described his c II He says His call is Jesus' greatest miracle. The other disciples Peter, Andrew James and John could always return to heir fishing boats and nets. But Mathew could not because the position of the Tax Collector are once in a life time job. The gospel tells us Levi got up and left everything. In the early Church Saint Jerome and Saint Augustine had a discussion on Levi's call. Jerome said the disciples didn't give up that much. All they gave up was a leaky old boat and some nets. Augustine said Matthew gave a lucrative position as a Tax collector. This cannot be retrieved.
In the bible the call or vocation is not an invitation it is a summons. It is not something we can think over. We have to respond.
Fr. Ken O'Malley, C.P., is a member of the Passionist Community at Sacred Heart Monastery in Louisville, Kentucky.