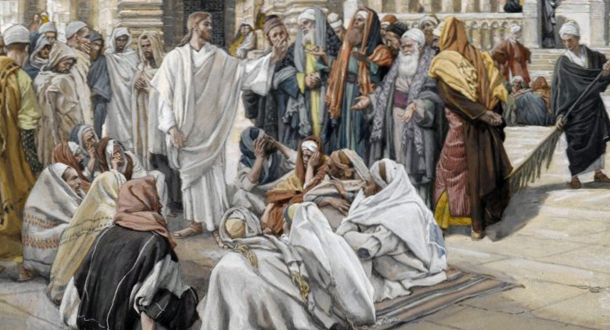 Scripture:
Hebrews 7: 1-3, 15-17
Mark 3: 1-6
Reflection:
This Gospel text always saddens me. I find it sad because it tells the story of people who have become so angry and frightened by their "enemy" that they've lost a true sense of their humanity.
The story goes that as Jesus enters the synagogue, he notices a man with a withered hand. His first impulse is to heal him. Unfortunately, there are Pharisees in the Synagogue and they are watching him. They hope Jesus will do something that they can condemn. Jesus suspects that if he heals the man, they will condemn him for "working" on the Sabbath. But Jesus refuses to let their condemning eye keep him from responding with compassion and love.
So, he challenges them about whether it is allowed to do something good on the Sabbath. "But they remained silent. Looking around at them with anger and grieved at their hardness of heart," Jesus heals the man's withered hand. The man healed rejoices but the enemies of Jesus continue to plot to have Jesus put to death.
Strangely enough, even while we rejoice at the courage, compassion and power of Jesus, most of us have to admit that we, too, can be intimidated by what others might think or say about our efforts to show compassion and love. We seem to be burdened by so many ways to condemn one another. Often our judgments come out of fear and ignorance. Anyone who thinks differently than we do, or has a different heritage, or looks different or believes differently is suspect in our judgment. Especially, if our friends, family or fellow believers share our outlook or beliefs. Perhaps a good prayer for today be that God will give us the courage and wisdom to live our Christian life with the same generous integrity that we see in Jesus in our Gospel reading today.
Fr. Michael Higgins, C.P. is the director of retreats at Mater Dolorosa Passionist Retreat Center, Sierra Madre, California.