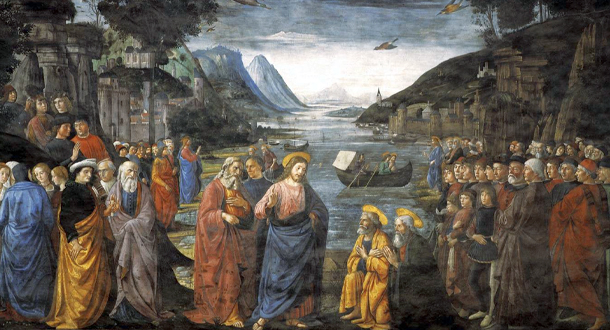 Scripture:
Reflection:
There was an old military ballad that began with the lyrics: "Give me ten men who are stout-hearted men, and I'll soon give you ten thousand more…" I had four uncles who had all served during World War II so I no doubt heard one or more of them belting this out sometime during my childhood. I wish I had known then that each of them were truly American heroes. The stories they could have shared! Guadalcanal, Iowa Jima, Midway Atoll, Normandy. They had all enlisted right after Pearl Harbor; very young men who sought to serve when words like Duty, Honor, Country weren't just slogans on schoolroom walls, but deeply embedded in the mores of our society. They served full knowing the dangers and difficulties of leaving home, occupations, loved ones and risking their lives.
Mark's gospel tells us that our Lord prayed overnight on the mountain and then sent for twelve men from the ranks of His disciples, twelve whom He would make His apostles. He called them to be with Him so they might learn by being with Him more closely. We know the numbers of Christ's followers ebbed and flowed in number, usually due to the danger of being one of His followers. What Christ called these twelve men to do was so much more than just believing and following Him. They would be the men He would send out to heal the sick and the lame, to cast out the devil, and bring the word of God to all. He made them leaders who had to answer that call full knowing the dangers and difficulties of leaving homes, occupations, family, and risking their lives to follow Christ.
I know I must strive to answer His call ~ every day. He calls me to be my best self, to be one of the "stout-hearted men", one who leads others to answer the call of God. "Many are called but few are chosen." Fewer still are those who answer the call.
Ray Alonzo is the father of three children, grandfather of two, and husband to Jan for 45 years. He is a USN Vietnam Veteran, and a 1969 graduate of Mother of Good Counsel Passionist Prep Seminary. Ray currently serves on the Passionist Alumni Council.