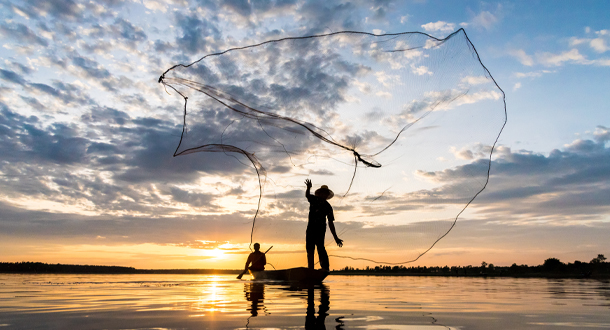 Scripture:
Isaiah 8:23-9:3
1 Corinthians 1:10-13, 17
Matthew 4:12-23
Reflection:
Lord, this is one of the gospels that really puzzles and challenges me. You walked along the shore of Galilee, passing by fishing boats with crews of men working with their nets. "Come follow me", you said, and they dropped everything and began their journeys as disciples/apostles. I can't fathom how young men walked away from their families, friends, careers, because you simply asked them to do so. Were you that charismatic? Did they immediately see something extraordinary in you that was so over-whelming, so commanding, that they changed their lives that very day?
I think of my life and wonder how I can follow you? Family, work, life challenges such as health all can push to a secondary consideration my desire to see you more clearly, love you more dearly, follow you more nearly day by day.
I don't believe you are asking me to "cast away my nets" in order to serve you. My way of serving you is doing everything while walking with you each day. I can embrace every challenge, difficulty, problem, each day as a gift from you to better myself. To find all the joys of children, grandchildren, my wife, my parents in my life as extraordinary of your Love for me. I must begin and end each day knowing I am trying to follow you.
Ray Alonzo is the father of three children, grandfather of two, and husband to Jan for 45 years. He is a USN Vietnam Veteran, and a 1969 graduate of Mother of Good Counsel Passionist Prep Seminary. Ray currently serves on the Passionist Alumni Council.