Scripture: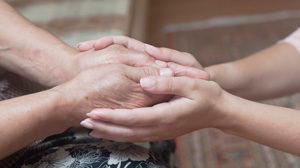 Hebrews 9:15, 24-28
Mark 3:22-30
Reflection:
In today's Gospel reading from Mark, we see yet another instance when the religious leaders of the people are in conflict with Jesus, saying, "By the prince of demons he drives out demons." Jesus proceeds to demonstrate the fallacy of this claim by reflecting that if "Satan has risen up against himself and is divided, he cannot stand."
Then Jesus speaks about an "everlasting sin." He says: "Amen, I say to you, all sins and all blasphemies that people utter will be forgiven them. But whoever blasphemes against the Holy Spirit will never have forgiveness, but is guilty of an everlasting sin." The blasphemy against the Holy Spirit is attributing the work of the Spirit, i.e., driving out demons, to Satan.
I struggle with the concept of "no forgiveness" even though it is blasphemy against God. I would like to think that if the scribes and the Pharisees repented of this sin, they might have been forgiven. These words of Jesus also lead me to reflect on how easy it can be to "demonize" those who disagree with us or oppose us. Today is the anniversary of Roe v. Wade, and the bishops in the U.S. have called for a day of prayer for the legal protection of unborn children. I keep hoping there is a way to stand up for what is right without characterizing those who are on the other side as evil. I have always admired those who would listen to those women who have had abortions, and those programs that seek to bring healing and reconciliation to those who have repented, as well as those who have worked with women (before and after) who are considering the best option when it comes to having a baby.
In upholding life and working against a culture of death, may we not in turn denigrate the life of others.

Fr. Phil Paxton, C.P., is the local superior at St. Paul of the Cross Passionist Community in Detroit, Michigan.