Scripture:
Reflection: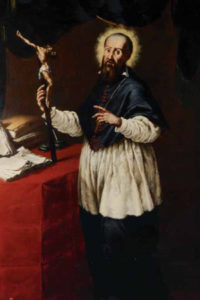 Today we celebrate the feast of St Francis de Sales who died in 1622 at age of 55.  Many years ago I made a special effort to visit his tomb in the Presentation Sisters' convent on Lake Annecy.   His remains rest near St Jane de Chantel.  St Jane with Francis was the Foundress of the Presentation Sisters
During his years as bishop, Francis acquired a reputation as a spellbinding preacher and something of an ascetic. His motto was, "He who preaches with love, preaches effectively."  One of his main efforts was to teach ordinary folks how to pray in their busy lives.  His life and teachings influenced St Paul of the Cross. I love among his many quotable sayings: "Half an hour's meditation each day is essential, except when you are busy. Then a full hour is needed."
Today's Gospel relates how "A large number of people followed Jesus from Galilee and from Judea.
Hearing what he was doing, a large number of people came to him also from Jerusalem, from Idumea, from beyond the Jordan, and from the neighborhood of Tyre and Sidon.  He told his disciples to have a boat ready for him because of the crowd, so that they would not crush him. He had cured many and, as a result, those who had diseases were pressing upon him to touch him."
In the Greek inspired Text striking words of closeness to Jesus by the Jews and Gentiles are used!  Words like thlibō which means crushed or "squash" or "hem in".  That's close!  Another word is epipiptō; which means fall upon, gripped, pressed around!  I am sure most of these folks were common ordinary people who probably were not the intelligentsia of the day but were given the wisdom of the Gospel which is "to come to Me all you who are weary and overburdened and I will refresh you".  Mt 11:28
This kind of healing closeness to Christ is caused by faith filled prayer!   A prayer that is a close relationship with Christ.  Pope Francis said it so well: "Our relationship with Christ, that is the primary thing: all else is secondary."

Fr. Bob Weiss, C.P. preaches Parish Missions and is a member of the Passionist Community in Louisville, Kentucky.