The Conversion of Saint Paul the Apostle

Scripture: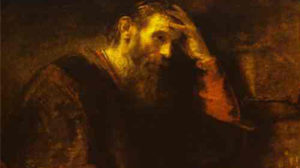 Acts 22:3-16 or 9:1-22
Mark 16″15-18
Reflection:
A few years ago, while ministering as Student Director in our formation house in Bhopal, India, I received a call from a young man called Yesuraj. He informed me that a few years ago he stayed in our Half-way home for ex-prisoners, men who just been released from prison in Bangalore, South India that we Passionists had established. One summer, during my own seminary formation years in Bangalore, I was asked to assist in that rehab center. Yesuraj, a teenager back then, was released from prison and entered the program.
Now he was calling me after many years. I asked him where he was and what he was doing for his living. He surprised me by saying that he was on a retreat preaching team at a Charismatic Retreat Center in Bangalore run by the Vincentian Fathers! I wondered what made this teenager change his life from whatever he did to land him in prison and then in our rehab center, to be a messenger of Good News, bringing many people to God! He could have easily returned to his former ways of living like many other ex-prisoners did if he had wanted to do so.
Today we are not celebrating the feast of St. Paul, but his conversion. We remember the conversion and the subsequent holy life of many saints on their feast day, like St. Augustine. But the Church wants us to remember the day Saul became Paul for a very specific reason -the movement and growth of the Church took a different turn after his Conversion.
Paul, known as Saul of Tarsus, was a Roman citizen though Jewish at birth. As a Jew he was sent to study under Gamaliel, one of the greatest scholars of his time. He learned the law and become a fanatic observer of law. He was present at Stephen's stoning and also approved of it. After his conversion on the road to Damascus, the same charismatic and zealous leader who dragged people out of their houses and persecuted them, becomes a fearless preacher of the Word, established communities and churches, makes leaders out of ordinary people. He would write his thoughts in the most legible way and also intellectualize the Christian faith.
"Go out to the whole world and proclaim the Gospel to every creature." Paul would redirect his missionary activity towards the gentiles because of the obstinacy of the Jews. It was with single-minded determination that the 'Apostle to the Gentiles' preached Christ as the one universal Savior. This Savior he served passionately and selflessly. He let nothing stop him doing it, be it hard work, exhaustion, suffering, poverty or danger of death.
It is a scary thought for many of us that God can call us in our brokenness to be His messengers. 'Who me?' is our response. Familiar territory always seems very comforting. Yet when we look at the story of Yesuraj or Paul or many other ordinary people like us, we are encouraged to say, 'Yes Lord, I can!'
Fr. Bruno D'Souza, CP, is on the staff at Mater Dolorosa Passionist Retreat Center, Sierra Madre, California.