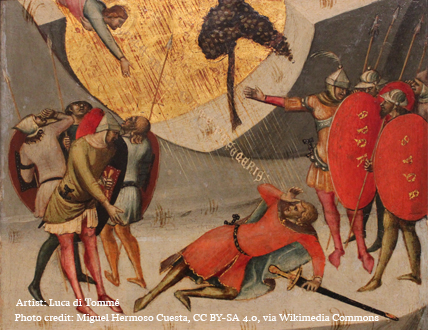 Feast of the Conversion of St. Paul the Apostle
Scripture:
Acts 22:3-16 or Acts 9:1-22
Mark 16:15-18
Reflection:
Today is the Feast of the Conversion of St. Paul the Apostle. And what a conversion we witness in the readings! Night and day. We all know the story of Paul's conversion from persecutor, "breathing murderous threats against the disciples of the Lord," to a "chosen instrument" of the Lord.
The Spirit works in mysterious ways that we do not understand, using the most unlikely instruments to carry God's name before "Gentiles, kings, and the children of Israel." Today, still, we see God making use of the unlikeliest of instruments, both those powerfully positioned, breathing death and destruction and those who the world discounts as poor, weak, unworthy of our attention.
I am thinking of our current existential predicament in the face of climate change and our turn away from commitment to the common good and the principle of subsidiarity, which Pope Francis tells us "grants freedom to develop the capabilities present at every level of society, while also demanding a greater sense of responsibility for the common good from those who wield greater power" (Laudato Si' 196). We are all familiar with the many consequences of our common actions: extreme weather events and the resulting devastation and death, loss of the world's forests, loss of biodiversity, acidification of soil and water, rising ocean levels, drought, fires, crop failures—the list goes on.
And in the midst of this disaster, the Spirit moves. Those the more powerful have discounted—the poor, the indigenous, the oppressed—are witnessing to our Catholic principles of subsidiarity and common good. In recent news, we see the mobilization of Black and Latinx communities against wells and drill sites in LA resulting in a ban on new oil and gas extraction and benefitting us all through decreased warming emissions and cleaner air. We see indigenous Earth and Water keepers holding the EPA accountable to address toxic PFAS in US waters, including the Great Lakes, on behalf of all of us who eat fresh water fish.
And how, you may now ask, do those powerful ones breathing death and destruction fit into this? Heirs to two American families that became fabulously wealthy from oil, have founded non-profit organizations focused on climate justice. Trevor Neilson, one of the founders of the Climate Emergency Fund put it this way in the New York Times: "The smartest place for philanthropists to invest is in this new generation of activists who refuse to accept the excuses of adults whose lazy approach to climate is leading us off a cliff," adding, "The [California] fires had a way of waking us up." A divine Pauline conversion, indeed.
Lissa Romell is the Administrator at St. Vincent Strambi Community in Chicago, Illinois.