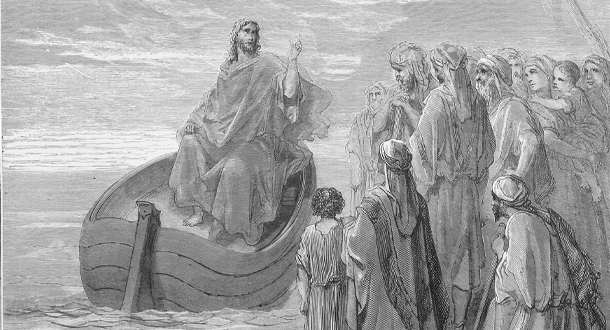 Scripture:
Reflection:
Think of how you envision Jesus – the face you see, the language you would hear when you spoke to him, the look of his eyes, the gentleness of his voice. We see Jesus in a way we understand, just as Jesus speaks to those around him in parables so they will understand; he presents stories to them with things that are familiar. Being from the country and a simple craftsman, he spoke to people as he sat in a boat, speaking about seeds and planting, and they enjoyed hearing him speak.
So, in using these parables, he presents scenarios that include things that the people could relate to, making his messages easier to understand. It is Jesus' way of making people think – not by simply giving them the answers, but causing them to ponder, reflect and think about their surroundings, their lives, the answers their hearts were searching for. I had a priest once tell me, when I asked him a specific question of scriptural understanding, to pray about my question and figure it out! That bothered me at first, but he went on to say that it was not his duty to give me the answers, but for me to discern and seek what I needed. This is what Jesus wants for his people – to grasp meaning in a way that they will understand.
So, when some of the disciples don't understand what he is saying, he is surprised, saying "To you is granted the secret of the Kingdom of God; but to those who are outside everything comes in parables, so that they may look and not perceive, listen but not understand, to avoid changing their ways and being healed!" I believe that those who truly follow the Messiah get it, and those who were not could not understand the significance of what he was trying to present.
The best explanation of this reading is what is written at the end:
Then when tribulation or persecution comes because of the word, they quickly fall away.
Those sown among thorns are another sort.
They are the people who hear the word,
but worldly anxiety, the lure of riches, and the craving for other things
intrude and choke the word, and it bears no fruit.
But those sown on rich soil are the ones who hear the word and accept it and bear fruit thirty and sixty and a hundredfold.
Patty Masson supports the Passionists from Spring, Texas.