Feast of St. Thomas Aquinas
Scripture: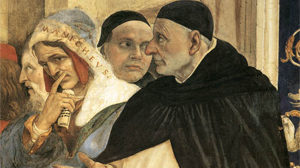 2 Samuel 7:18-19, 24-29
Mark 4:21-25
Reflection:
We celebrate the feast day of the great Saint Thomas Aquinas today.  Aquinas was a member of the Order of Preachers, better known as the Dominican religious order.  He taught, wrote learned books and contributed in an outstanding way to philosophy and theology.  He is the preeminent spokesman of the Catholic tradition of reason and of divine revelation.  Thomas Aquinas is one of the great teachers of the medieval Catholic Church, honored with the titles of Doctor of the Church and Angelic Doctor.  The works of Aquinas have long been a part of most seminaries and schools of theology.  In researching some of Aquinas' background, I was surprised to learn that his greatest and last work, The Summa Theologiae which deals with the whole of Catholic theology, was uncompleted.  He stopped writing it about three months before his death in 1274.  When asked why he stopped writing, he replied, "I cannot go on…All that I have written seems to me like so much straw compared to what I have seen and what has been revealed to me."
In reflecting on the reasons Aquinas gave for not finishing the Summa I am very humbled.  In reflecting on the gospel passages found in our readings today from ordinary time as well as the feast day readings, I also come away being humbled and challenged.
In Mark 4:21, "Is a lamp brought in to be placed under a bushel basket or under a bed, and not to be placed on a lampstand?"
And
In Matthew 23:11-12, "the greatest among you must be your servant.  Whoever exalts himself will be humbled; but whoever humbles himself will be exalted."
Aquinas was a brilliant theologian, philosopher and writer of Catholic thought.  So, why did he not finish the Summa???!!  I believe he was more importantly a person of deep faith, open to following the plan God had for him.  He did not need to finish the Summa, he did not hide his lamp of faith under a bushel basket, he opened himself up to the plan God put him on and in this way his light continues to shine in our world today.  He used the gifts God gave him to make the world of Catholic thought and deed live on for all the hundreds of men and women who have benefitted from his works.  He was a humble man aglow with the light of Christ.
…Challlenges for us…
Can we place our lamp on the lampstand to burn brightly so others may see the glory of God within and through us?
Can we serve humbly and faithfully as Aquinas did?
Can we give up our unfinished agendas and humbly accept the plan God has for us and trust that what needs to be accomplished will happen in God's time and not necessarily on our timeline?
Saint Thomas Aquinas, inspired by your example, may we grow in knowledge of our Catholic faith and always strive to be people of humility and understanding.  May we keep this light of faith burning brightly as we continue to serve God and all God's people.  Amen.
Theresa Secord is a Pastoral Associate at St. Agnes Parish, Louisville, Kentucky.