Memorial of St. Thomas Aquinas
Scripture:
Hebrews 9:15, 24-28
Mark 3:22-30
Reflection: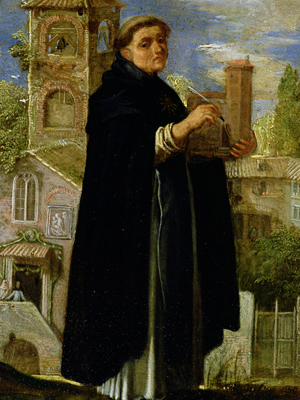 We celebrate Saint Thomas Aquinas OP this day.  He was an Italian Dominican friar, Catholic priest, and Doctor of the Church.  He was an immensely influential philosopher, theologian, and jurist in the tradition of scholasticism.  His writings are well known to all in the theological world of study and learning.  In looking beyond the scholastic contributions of Thomas Aquinas, I found a series of quotes attributed to him.  I look at these simple words as good pastoral advice for those of us called to ministry in the church today.  There were many quotes, but for the purpose of this reflection, I offer you the following:
'Sorrow can be alleviated by good sleep, a bath and a glass of wine.'
Ah! 'how wonderful it is after a long day to enjoy happy hour relaxing in a bubbling Jacuzzi or bubble bath and end the evening with the simple prayer that St. John XXIII ended each day with, 'It's your Church, God, I'm going to bed.'
To one who has faith, no explanation is necessary.  To one without faith, no explanation is possible.'
Jesus tells us to bring the good news to all people. At the same time he reminds us that there will be those who are unable to hear the gospel message because of their hard-heartedness, disbelief, stubbornness or whatever!  Let us remember there will never be 100% participation at bible study, faith formation events, Sunday worship or the myriads of programs and events offered.  Rejoice in the 50% and do not let our hearts be troubled!
'The things that we love tell us what we are.'
Fr Michal Judge, Franciscan priest, chaplain for the New York Fire Department, died at 9/11 as he ministered to those in need. His daily prayer:
Good morning, Lord.  Take me where you want me to be today.  Let me meet who you want me to meet.  Tell me what you want me to say.  And keep me out of your way.  Amen.  In love, may this be our daily prayer.
'There is nothing on this earth more to be prized than true friendship.'
True friendship rests in the celebration of the big (S) Sacraments and how we live out our lives of faith through the many small (s)sacraments.  True friendship calls us to continually look for the face of Christ in our family, friends, parish, community, nation as well as in the faces of those who are poor, lonely, sick, displaced, homeless and in need in any way.
Jesus is the Way, the Truth and the Life!  He is our best friend!  May we enjoy true friendship in him and through him.
Saint Thomas Aquinas, pray for us!  Amen.

Theresa Secord is a Pastoral Associate at St. Agnes Parish, Louisville, Kentucky.