Scripture:
1 John 3:22–4:6
Matthew 4:12-17, 23-25
Reflection: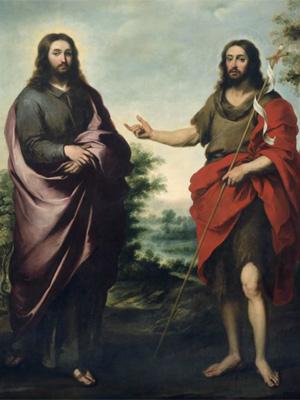 Across the entire Christmas Season, we are invited into the family dynamics surrounding the life of Jesus. Of course, the stories around the birth of Jesus highlight this par excellence, but so too do the stories of the birth of John the Baptist and his subsequent ministry.
Today's gospel is no exception. We see how an event in the life of his cousin John affects Jesus in a most profound way. John may have been silenced by Herod, but his message is about to be taken up and amplified by Jesus himself. The gospel today begins with the confronting news of John's arrest. This arrest must also have been a stark reminder to Jesus that to engage in prophetic ministry and to call for change was a dangerous mission. Yet, it is as if the arrest of his cousin propels Jesus himself into a more active role. He sets out from Nazareth and begins his wider public ministry. We see too that he takes up the cry of John and that his first message to people is 'to repent'.
We know Jesus will refine and redefine this basic message, and expand it to include all people in this wildly visionary call to live within the 'reign' of God in our own world, and to anticipate the life we will share with God in the kingdom of heaven.
Jesus truly brings a new vision and in the light of this vision people see a new way forward. Hope surfaces once again to empower them. Where the drudgery of life, and the various levels of oppression they suffered felt like they were walking in the valley of death rather than living, they now see a way forward and are bathed in a new light.
Jesus will also adds new dimensions to the preaching that John had begun. He will become itinerant and traverse all around Galilee with his message of hope. His message will be so attractive and appealing that people will flock to him to hear him or be cured by him. Further, people will now accompany and follow him on his travels.
This will create a three-way dynamic – Jesus will go to people in their own places, they will flock to be with him when he is in their environment and people will also follow him beyond their own areas and become his companions.
This might suggest to us three moments of hope as we begin this new year. We know Jesus will come to us no matter what our circumstance, we know we are invited into his presence and that his message for us in a healing one, and we know that we can be companions and accompany him – we can be his disciples.
Happy New Year and every blessing for 2022.
Fr. Denis Travers, C.P., is a member of Holy Spirit Province, Australia.