Scripture: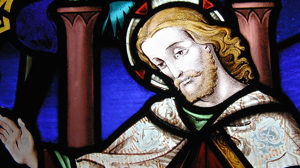 2 Samuel 18:9-10, 14b, 24-25a, 30-19:3
Mark 5:21-43
Reflection:
From the poem, Concord Hymn, by Ralph Waldo Emerson, we have the words, "The shot heard 'round the world."  These words refer to the pivotal shot that occurred at the Old North Bridge in Concord, Massachusetts, where the first British soldiers fell in the battles of Lexington and Concord.  It was the beginning of the Revolutionary War.  It warned all tyrants around the world that now begins the great battle against them for the cause of freedom.
In Sunday's gospel we heard of the cure by Jesus of a man with an unclean spirit.  This cure could be called "the cure heard 'round the world."  It was Jesus' initial cure in Mark's gospel.  It warned all the demons that now begins the great battle against them for the cause of holiness.
In yesterday's gospel we heard of the cure of another man possessed by a demon.  In today's gospel we hear of the cure of a sick woman and the raising of a little girl thought to be dead.  Mark's gospel continues on at a fast pace reporting battle after battle. On the one hand there are diseases, demons and death.  On the other hand there is Jesus healing, driving out demons, and giving life.
That same battle between good and evil continues to this day.  "Demons."  That's a good word to describe the power of evil in our world today.  There are the demons of abortion and doctor-assisted suicide.  There are the demons of racism and immigration phobia.  There is the demon of terrorism.
There are demons like greed that has plagued our world since the beginning.  The desire for power and riches, for land and oil, has nations obsessed with the demons of war and violence.  Building weapons has replaced feeding the hungry.
Where are the cures?  Martin Luther King, Jr. said, "Darkness cannot drive out darkness; only light can do that.  Hate cannot drive out hate; only love can do that."   If we want to drive out demons from ourselves, our family and friends, and from our world, where do we start?
First we need to light of humility, knowing that without God we can do nothing.  From humility follows the light of forgiveness, seventy-time seven times.
Secondly we need the love that is unconditional hospitality, welcoming all into our hearts.  We need a love that is self-sacrificing, always looking for ways to bring joy to others.
What is the message of the gospels that is "heard 'round the world?"   In the end, God wins.  Evil loses.  Come, let us join in the victory celebration that is the Mass.

Fr. Alan Phillip, C.P. is a member of the Passionist Community at Mater Dolorosa Retreat Center, Sierra Madre, California.   http://www.alanphillipcp.com/