Scripture: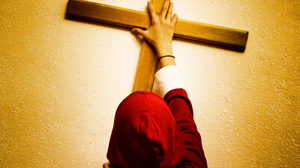 Reflection:
So, today's Gospel really interests me.  There's just so much there!!  A desperate father runs up and begs Jesus to go with him so he may heal his gravely ill daughter.  Jesus drops everything and leaves immediately.  On the way, a woman, equally desperate but for her own salvation, believes so deeply that just "touching his cloak" heals her completely.
On the surface, this is all about Jesus healing the sick.  The salvation he offers, even on this temporal earth, is not just significant, but life-changing.  To be brought to wholeness, our pieces put back together better than before, is certainly something for which most of us pray.
Digging a little deeper, we can recognize how great the faith was of the people crying out for Jesus' saving power.  Here are people who, in deep need, turn to someone they've never met, but only heard about.  Would it not be amazing if we all would have faith so strong?
Reflecting further, with Jesus performing not just one but two life-saving miracles back-to-back, it's clear that there's enough of him to go around for us all.  He doesn't hold back his saving power because it's limitless.  For my human mind, it's unfathomable that someone's mercy, forgiveness, and healing grace could be not only free flowing, but unending.
Which leads us to our next revelation – how Jesus came as a savior for everyone; Jews and non-Jews, men and women, highly esteemed members of society and outcasts, those who are "righteous" as well as we who are "broken" – all are equal in his eyes, and all are equally deserving of God's love and healing.  Just as before, he holds nothing back, and gives freely to any and all.
But wait…there's more!
Jairus, the father of the sick little girl, waits patiently while Jesus spends time with the woman on the way.  He didn't say "C'mon, Jesus!  She's an outcast!  Leave her there… my daughter is more important."  No… instead he waited – and sadly, word came that his little girl died.
And Jesus, hearing that the little girl had died, didn't say "Dude… my bad.  Sorry.  Let me stop by later with a casserole and we'll chat."  No… instead he said "Be not afraid," and goes to that which everyone believes is hopeless and raises her up to new life.
Later in Jesus' life he would also wait to go to his friend, Lazarus.  When he got there, Lazarus was dead and buried.  His family had been mourning and knew in their hearts it was beyond hope.
"Surely, he would not have died if you had been here, Lord."
Jesus proves God's miracles can know no limits of time or circumstance.
"Lazarus, come out."
How many times have we faced something which seemed hopeless?  How many times have we been impatient with God, or failed to understand his plan and timing?  I know I sure have… and a lot.  And yet, through everything we do and in the midst of every trial, there He is, walking with us on the road toward all that needs raising.
So reach out, touch his cloak.  Cry out loudly.  Whatever it takes, whatever you need to do, do it.  God is there, waiting.  He'll drop what he's doing and will walk with you, because there's enough of Him to go around for us all.
Sometimes we get what we hope for.
But, we may not get the answers immediately – only in God's time.
We may not even get the particular salvation we're after – only God's plan.
Even when it seems hopeless, it's not too late to turn to God and cry out for help.
Even in your darkest moment, it's never too late to have faith in God's saving power.
Dear God, thank you for the gift of you.  Please, grant us the faith to call for you, reach for you, and know your healing – in your perfect way, in your perfect time.  … thy will be done. Amen

Paul Puccinelli is Director of Liturgy & Music at St. Rita Parish in Sierra Madre, California, and a member  of the Retreat-Team at Mater Dolorosa Retreat Center.