Scripture: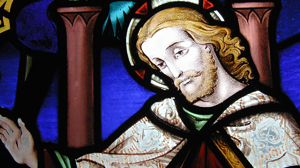 Reflection:
Last Sunday coming home from Mass about 8:30 in the evening, I boarded an almost empty "L" (Chicago elevated rapid transit system) along with a rather tall, heavy-set gentleman of a different ethnic background than mine who chose to sit right next to me and rather a bit too close for my comfort. He immediately began speaking to me in a loud voice, addressing me as "pops" (he later revealed his age as 58 which means he rightfully estimated my age) I could tell by the smell of his breath and the slur of his words that he'd evidently been over served. My immediate reaction was to quickly change seats and hope that he didn't follow. I didn't. I put away my cell phone and started paying attention to him.
I suspect it might be a bit blasphemous for me to compare my fear last Sunday night to that of Mary's when the angel told her "And behold, you will conceive in your womb and bear a son, and you shall name Him Jesus"  but I believe God chose Mary because of her habit of saying "yes" when called upon to love. Maybe, it's little experiences like my encounter above that will give me the grace to say "yes" to the bigger challenges should they come my way.
This all precedes today's Gospel selection, were we read about the miracle of Jesus changing water into wine. Mary has a focal role here too. She asks Jesus to do it. I find it interesting that it is Jesus' first public miracle and that those who choose the readings for the Lectionary, put it here immediately following Christmas on the weekend we celebrate the feast of the Epiphany. Epiphany translates God being made manifest.
Maybe I can just expect a miracle and find God, whenever I choose love over fear, even if it's only for a short ride on the "L". Wow!

Dan O'Donnell is a Passionist Partner and a longtime friend of the Passionists.  He lives in Chicago.