Scripture: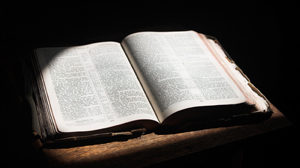 Reflection:
What We Have Seen, What We Have Heard
With the ending of Christmas season yesterday we set out into the ordinary time, reading the two Books of Samuel and the Gospel of Mark. We will see the anointing of Saul as first King of Israel and his successor, King David. Mark's Gospel will begin with the first miracle of Jesus, the healing of a man with an unclean spirit.
Someone has imagined that the angel Gabriel was angry when he made Zechariah mute. Yet before Mary, bearing God's invitation, Gabriel was afraid. He was realizing the mystery that was unfolding before him. He awaited an answer from a young woman creation of God, and upon her answer was bound up an outpouring of love that would be a new creation of God. Gabriel was bigger than Mary. At that moment it didn't seem so to her. But he was like Trump Tower and she was a small lemonade stand in a back yard. Still he bowed before her so beautifully when she said yes. Now he was mute! When he stood before God he still was speechless. But God knew what he would ask and so told Gabriel to go tell the angels to gather in Bethlehem in nine months, tell all creation to get ready for something that will make them happy and to celebrate in whatever way the things of creation can celebrate, and of course go to all the stars and tell them to come and look down on Bethlehem. One star would even be chose for a special job since the stars had been so good at doing what they were created to do and people could find their way around in the dark because of their precision.
Our human vision is limited in range. At either end of the spectrum is infrared and ultraviolet which spectral imaging can capture but not our vision. Perhaps it is a poor analogy to say that in the lens of the Incarnation such things invisible to normal vision become visible: angels gathering in Bethlehem to see the Holy Family, the increase of charity among people immersed in the celebration of God's Love incarnate, the gathering of stars and the special one noted by the magi as the one that would lead them to a new born king, or in the animal kingdom, how the great ones show mercy to their prey on Christmas Day and the animals speak at the hour of the birth of the Redeemer.
If the vision of the Incarnation has let us see the unseen, it is this 'unseen' that will be at work in the calling of fishermen by Jesus, his showing authority over demons, his going forth from the Jordan to do good and to lead us to the Father. The vision of God's love will be at work in God's choice of Saul to be king and in Saul's weakness, in David's greatness and praise of God as well as in his failures and penitence. In fact what we have celebrated in the mystery of Redemption we now see in the gritty details of humanity groping along humbly and proudly, confident but not always, sinful and sorrowful. We will meet heroes and heroines, some like ourselves and others whom we would like to imitate.
The Incarnation tells us, 'He always loved his own in the world and when the time came for him to be glorified by you, his heavenly Father he showed us the depth of that love'. Let enter deeper into this mystery by going backward to our daily lectionary in which we can see ourselves and our world as the love story once again unfolds among us.

Fr. William Murphy, CP is the pastor of Immaculate Conception parish in Jamaica, New York.