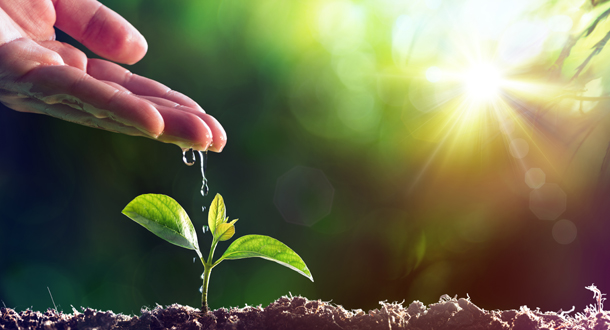 Scripture:
Isaiah 55:10-11
Romans 8:18-23
Matthew 13:1-23
Reflection:
My hope is that each person reading this is able to be more intensely conscious of God's fertile Word always present with you and for you.
What is God saying to us through Jesus' parable of the sower, who is sowing with abandoned, his seed? His seed is His love, His friendship, His wisdom, His getting us through tough situations, His intense interest in our lives, our marriages, our vocations (after all, He called us) are all available through His Word. The same Word that created the stars, the planets, our own lives, always available! "So shall my word be that goes forth from my mouth; my word shall not return to me void, but shall do my will achieving the end for which I sent it." (Is. 55:11)
To highlight the utter value of the Word that is "sown," listen to this story which comes from the late, Fr. Joseph Donders:
"A young man had a misunderstanding with his girlfriend – a very serious misunderstanding.
He was upset about it, because it spoiled their relationship entirely, and he like her very much.
He tried to talk to her, but that did not work. He tried to phone her, but when he heard her voice, he did not know what to say, and he had to hang up. He tried to write a letter but when he finished, he tore his letter up because he thought it sounded silly.
Then he remembered that she liked roses, dark, red roses. He bought her a rose -only one, because roses were very expensive that time of the year. The man in the flower shop put some ferns with the rose and wrapped it in nice thin, green paper with a simple bow. The young man knew that this would work.
The young man went to her home and put the rose down in front of her door at the time he knew she would come home. He then hid around the corner, behind some bushes.
Then she came, as lovely as ever. His heart was throbbing, and he was in a sweat. She opened her purse and took out her key.
She opened the door and stepped inside, without having noticed his beautiful, expensive rose at all!"
What a disappointment, what a tragedy, what a letdown, what a missed opportunity! But we do not know what became of the young man. If he has an instinct to believe that God does not abandon anyone, then he will accept this reality, as painful as it is. Knowing that it is in the terms of the parables and this story that God, that Jesus, that Matthew, wants to speak to our hearts, to get our attention. Think of the unseen, unheard, unfelt, untouched signs that you wanted to give to someone else that somehow got lost, missed, never noticed.
God gives us signs day after day, night after night, trying to get our attention. Like when someone asks you, "can we talk for a minute, just a minute, please?" Or, "Dad, I made a huge mistake and I need to tell you about it." Or, "honey, you know we have not had the time just to talk about what matters to us." Or, when someone in the family says, "Hey, I have this great idea for us to do." Or, when a feeling comes over you, and you just want to be grateful to God, or to someone who never hears anything from you. Do you know what I am talking about?
Yes, we live as those who have eyes and see not; as those who have ears and hear not; not only as far as God is concerned, but even as far as the people around us are concerned.
Is not God trying to speak to us through others? Is not that what God tried to do through Jesus when he often "went out of the house and sat down by the sea?" Where are you and when God calls you to be in the presence of others, with Christ's presence?
You and I recognize Him when we listen, look, see, pause and observe, and, yes, point His presence out for one another through our acts of kindness, patience, perseverance. Let go of your fear, God is behind it all.
Fr. Alex Steinmiller, C.P., is a member of the Passionist Community in Detroit, Michigan.