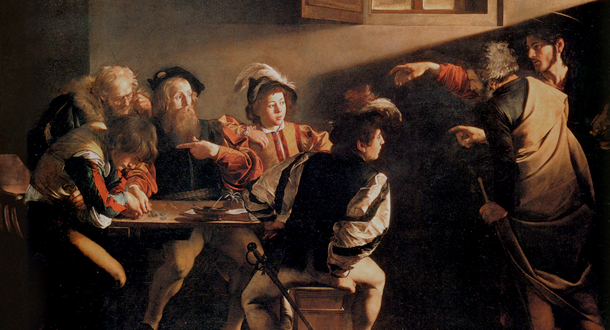 Scripture:
Genesis 23:1-4, 19; 24:1-8, 62-67
Matthew 9:9-13
Reflection:
How often do we ask God: "When will my prayers be answered?"
Or we may ask a friend or spiritual advisor: "How will my prayers be answered?"
In today's Scripture readings we see God working through people to answer prayers.
In the first reading from Genesis, we find Abraham, our father in faith, burying his wife, Sarah. He believes what God has promised him, that his descendants will inherit the land and be as numerous as the stars. So, he prays for the next generation, and enlists his trusted servant to find his son Isaac a suitable wife. This leads to a series of conversations: between Abraham and his servant, between the servant and God, between the servant and Rebekah, and with her family. In the end, Rebekah agrees to leave her family and home, and go with the servant and marry Isaac.
In the Gospel reading for today, we hear Jesus call Matthew the tax collector to be one of his apostles. Matthew agrees and invites Jesus to his home for dinner. Matthew and his fellow tax collectors were despised social outcasts because they collaborated with the foreign occupying power, the Romans, to extract taxes from their own people.Yet Jesus and the other apostles eat at their table and converse with them. Everyone there heard Jesus say: "I did not come to call the righteous but sinners." Matthew changed his life and became a leader in the early Church after Jesus died.
Some doubt God's presence working in our world today because they do not see overt divine interventions. In today's Scriptures we see God working through ordinary people who were open and willing, who entered into conversations and built relationships. Rebekah is revered as a matriarch in Judaism and Christianity, and St. Matthew is a pillar of the Christian faith.
We may ask ourselves: Are my conversations today building up community, and promoting justice and peace? How am I the answer to someone's prayer?
Patty Gillis is a retired Pastoral Minister. She served on the Board of Directors at St. Paul of the Cross Passionist Retreat and Conference Center in Detroit. She is currently a member of the Laudato Si Vision Fulfillment Team and the Passionist Solidarity Network.