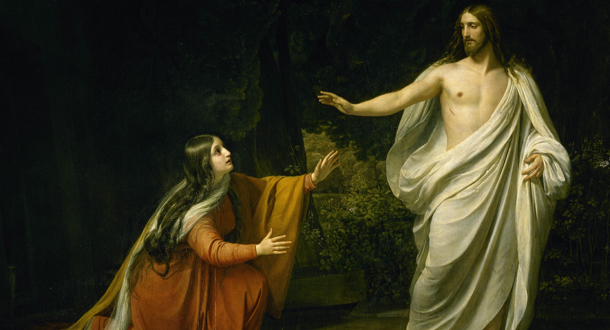 Scripture:
Song of Songs 3:1-4b, or 2 Corinthians 5:14-17
John 20:1-2, 11-18
Reflection:
Mary Magdalene, Oh I love this girl. She makes me want to Go and tell the good news!
Cardinal Sarah of the Congregation for Divine Worship tells us:
… precisely because she (St. Mary Magdalene) was an eyewitness to the risen Christ, she was also the first one to bear witness to him before the Apostles…Mary Magdalene went and announced to the disciples 'I have seen the Lord' (Jn 20:17-18). Thus, she becomes an evangelist.
Saint Thomas Aquinas says, she becomes the "apostolorum apostola" [apostle to the Apostles].
Saint Mary Magdalene was the first person to whom Jesus directly appeared after His resurrection, the first to be sent by him as an apostle to evangelize.  "Don't cling to me," he told her. "Go!" And she did.
That's it!!  Mary Magdalene loved Jesus, she stayed at the tomb to mourn him and He came to console her, to tell her the good news. He was her friend. That is the challenge for each of us. Not just the good times because she also shared in His agony, but through the best and the worst, isn't that the way of real friendship?
It seems so simple, just love Jesus! Love Jesus through His cross and to His resurrection.   When you do that, you can't help but be an evangelist too, to 'GO' and tell others of His love.

Kate Mims is the Retreat Center Director at Holy Name Passionist Retreat Center in Houston, Texas.