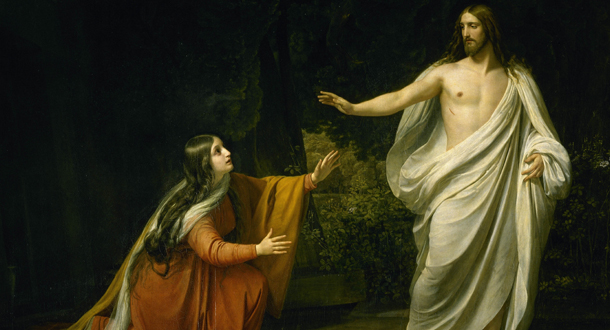 Feast of Saint Mary Magdalene
Scripture:
Song of Songs 3:1-4b or 2 Corinthians 5:14-17
John 20: 1-2, 11-18
Reflection:
While all the gospels tell of finding Christ's tomb empty on the day after the Sabbath, it is John who fills in the story of Mary Magdalene's intense love for Our Lord. In pre-dawn darkness, trotting through the stillness of Jerusalem, she stood at the tomb, at the first permissible moment, to offer her most loving service: preparing His mutilated body for proper burial. Mary had stood with His mother, Mary, and John himself at the Crucifixion, in the shadow of the Cross. She had watched Him being laid in the tomb.
Now as she arrived at first light, she was struck by terror and grief again as she realized the tomb had been violated. The stone had been rolled away. Christ's body was no longer there. Yet her misery turned instantly to greatest joy as Christ revealed himself. What a great immensity of the emotions were shown in His one word greeting, "Mary"! He chose to reveal Himself to her even before Peter and the rest of the Apostles.
I humbly search for you in my own darkness, Lord. I am lost and unable to find my way. Forgive this sinner and in Your Love seek me out. "Out of the depths I cry to you. Lord, hear my voice." Psalm 130: 1-8.
Ray Alonzo is the father of three children, grandfather of two, and husband to Jan for over45 years. He is a USN Vietnam Veteran, and a 1969 graduate of Mother of Good Counsel Passionist Prep Seminary. Ray currently serves on the Passionist Alumni Council.