Scripture: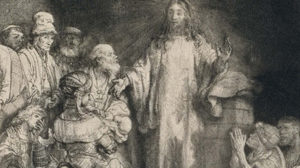 Exodus 20:1-17
Matthew 13:18-23
Reflection:
 A Jealous God
"I, the Lord your God, am a jealous God." Ex 20:5    Jealousy is a repulsive word.   Jealousy means my ability is resented by someone.   It means, if I am a married person, that my heart is not to be trusted and that I am seeking comfort from another and under suspicion of infidelity.   If I am a jealous person I want to control someone just for my purposes.    At any rate jealousy has an overwhelming negative flavor to it.  How in the world can Scripture call God jealous twelve times in Old Testament.   In fact it is an often repeated name for God:  El Kana.  "For the LORD your God is a consuming fire, a jealous God." Deut 4:24
I think there are basically two reasons why God is jealous in our regard.   First of all He knows how weak we are and are so easily turned away from Him.  Secondly, He knows we lose all hope of meaning, happiness and joy if we try live without Him.   At the very beginning of the Roman Catechism we find this beautiful text.  "God, infinitely perfect and blessed in Himself, in a plan of sheer goodness freely created man to share in His own blessed life.  For this reason, at every time and in every place, God draws close to man." #1
God's jealousy is His zeal and love for us so we are not deprived of the incredible joy he has planned for us.   What we experience as disappointments and broken dreams is often God's gentle redirecting us to His wonderful plans fashioned in all eternity.  The world is constantly telling us in thousands of advertisements that happiness consists in wealth and materialism.  "Take care, and be on your guard against all covetousness for one's life does not consist in the abundance of his possessions." Lk 12:15
The Jealous God is the One who cares too much for us to allow us to walk away from Him without a fight.  He never takes away our liberty.  His love for us is beyond our imagination.  When things are not going well for me, it might be our loving God close by redirecting my life.
After all He is a Jealous God! The last thing He wants is to lose us.
Fr. Bob Weiss, C.P. preaches Parish Missions and is a member of the Passionist Community in Louisville, Kentucky.