Scripture: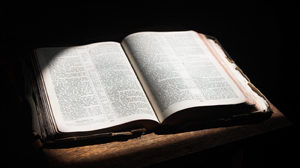 Genesis 18:20-32
Colossians 2:12-14
Luke 11:1-12
Reflection:
Teach Us How to Pray
Jesus was praying in a certain place, and when he had finished, one of his disciples said to him, "Lord, teach us to pray just as John taught his disciples." Lk 11:1 The apostles made a wonderful request of Jesus.  Is there any more important thing to know in our lives than to encounter God in prayer?
There are many words for prayer in scripture but the one used in today's Gospel seems to go right to the heart of our communication with God.  The word is desire (pros-yoo-khay') in the original  Greek New Testament.   The etymology of prayer is desire yoo-xay'.  Prayer is a mutual yearning between humans and God.  Prayer is more than just a desire by one alone but only happens when the yearning is both from God and from our self.  Prayer is in the middle tense which reflexes back to the subject.   God is the great initiator of prayer. He desires us.  He reveals Himself as alive and caring about us.   This happens, first of all, when He opens our eyes and hearts to the wonder of His caring presence!  God always must first kindly desire us, and only then, can we fondly long for God.
So Jesus tells us: "When you pray, say: 'Father!"  What warmth and affection are in that word for Jesus!  Every prayer of Jesus begins with Father!  A 197 times in Gospels is the word Father on the lips of Jesus.  In Luke's Gospel the first words of the young Jesus are: "Why were you searching for me?" he asked. "Didn't you know I had to be in my Father's house?" Lk 2:49   The last recorded prayer of Christ in Luke is:  Jesus called out with a loud voice, "Father, into your hands I commit my spirit." When he had said this, he breathed his last." Lk 23:46
St Paul of the Cross was walking outside our retreat in Rome when two of our students saw him saying his rosary.   Two hours later when the two came back they saw the saint still saying his rosary.  One of the students said: "Father Paul how many rosaries have you said?"   Looking at his rosary he said: "I am still on my first Our Father!"  The saints could spend two hours in rapt awe at "father"!  In prayer the Holy Spirit guides us.  "God has sent the Spirit of his Son into our hearts, crying, "Abba! Father!"  Gal 4:6   Prayer is indeed a mutual longing with God.
Fr. Bob Weiss, C.P. preaches Parish Missions and is a member of the Passionist Community in Louisville, Kentucky.