Scripture: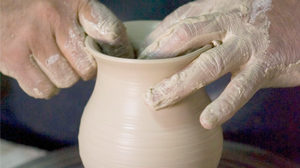 Jeremiah 18:1-6
Matthew 13:47-53
Reflection:
Pottery has always fascinated me.  The ability of the potter to take a lump of clay and fashion it into something of beauty is amazing!  God has created us out of nothing and fashioned us into someone of grace and grandeur, created in love, surrounded by love and called to love. How awesome is that!?  In the throwaway society that surrounds us, God's gift of creation, all of nature and humankind often gets neglected.  Human beings are looked at as objects; nature is abused, neglected and taken for granted!
God our Creator never takes us for granted!  How often do we take each other for granted?!  How often do we turn our back on those who don't share our values or expectations?  How often do we ignore the blight of our planet Earth and say, "tomorrow I will buy that recycling bin?"  God our heavenly potter has molded us and shaped us into something good and loving!  We are called in turn to be potters who mold and shape others following God's example.
Today is my parents' 77th wedding anniversary!  They took seriously the call to be potters.  They molded and fashioned 8 children created out of their love for each other and blessed by God's loving hand.  I am sure they worried at times what that 'lump of clay' was ever going to become!  But it never stopped them from loving and molding us into the image that God created us to be.
Happy Anniversary, Mother and Dad; and Thank you for being such creative, loving and inspiring potters of God's love.  We are blessed because of your faith in God the Divine Potter!

Theresa Secord is a Pastoral Associate at St. Agnes Parish, Louisville, Kentucky.