Scripture: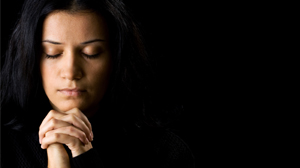 Ephesians 2:19-22
John 20:24-29
Reflection:
"In him you also are being built into this temple, to become a dwelling place for God in the Spirit." Ephesians 2:22
I am reading a wonderfully edifying book called Thirsting for Prayer by Jacques Philippe. He tells us to "seize the times for separating ourselves from everything in order to seek God inside ourselves, in a simple movement toward silence, recollection and inward attention to the presence of him who dwells in us." He also quotes John of the Cross who said, "You yourself are the place in which he dwells, you are his hiding-place. What joy, what consolation that brings you! Your treasure, the object of your hope, is so close to you that he is within you, or rather you cannot be without him."
I've known for a long time that God said He would never leave us or forsake us (Dt 31:6) and that God lives within us as we see in today's first reading, but I'm trying to be more mindful of this truth as I go through my day. I glance toward Him more often, stop for a minute and thank Him and praise Him and tell Him that I love Him. It's really a very simple turning toward God living within me, but it lights up my heart and brings a smile to my face as I ponder this amazing reality. God, Himself, dwelling deep within me.
When you have a house guest, you check on them, spend time with them, and be sure they have everything they need. So too with God. I am checking in more often, and when I have longer periods of time, I sometimes imagine us sitting in my living room or my little prayer room, sharing a cup of tea (for you it could be a glass of wine, or whatever you like to drink!) We chat away about everything – sometimes the grandkids, sometimes His Word; or we don't talk at all. It's delightful just being with Him.
The author suggests that over time as we acquire the habit of doing this, "we will see that little by little, even in the heat of action, we remain united to God and can draw from his intimate presence all energy, all wisdom, and all peace. Then we no longer live in a superficial, agitated, disorderly, impulsive way, but truly centered on our heart, in which God is dwelling." I pray that I can do just that and I encourage you to read the book! May God help each of us live more aware of His presence each day.
Janice Carleton and her husband Jim live in Portland, OR and partner with Passionist Fr. Cedric Pisegna in Fr. Cedric Ministries. She is the mother of 4 grown children and grandmother of 6. Janice also leads women's retreats and recently wrote her first book: God Speaks to Ordinary People – Like You and Me. Visit Janice's website at http://www.janicecarleton.com/ or email her at [email protected].