Scripture: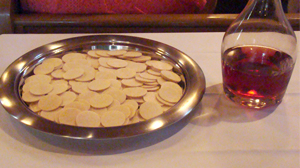 Ephesians 2:19-22
John 20:24-29
Reflection:
"Brothers and sisters: You are no longer strangers and sojourners, but you are fellow citizens with the holy ones and members of the household of God, built upon the foundation of the Apostles and prophets with Jesus Christ himself as the capstone. Through him the whole structure is held together and grows into a temple sacred to the Lord; in him you are also being built together into a dwelling place of God in the Spirit." Eph. 2:19-22
How amazing that we are a part of this huge, wonderful conglomeration of God's people! We are chosen! We are eternally loved! And we are part of a holy group that will one day all praise God together! It's mind-boggling really – with Jesus as our foundation – we are a group of people who have chosen to follow Him. People for over 2,000 years who have found a purpose and a hope through the death and resurrection of Jesus Christ.
Think of all the saints who have gone before us, our older brothers and sisters who are at this very moment cheering us on to the finish line. Think of all the martyrs who have witnessed to the very truth we cherish today by giving up their lives so convinced were they of God's eternal love. What courage we can draw from them!
Learning their stories can bless and encourage us in our own walk and our own witness. I love the stories of Pope John XXIII; St. Therese of Lisieux; and St. Faustina just to name a few. I see Christians today who aren't ashamed of their faith and are sharing it whenever they get a chance. One of our sons lets the Holy Spirit prompt him daily if there is someone who needs prayer (usually strangers.) It takes great courage to walk up to someone out of the blue and ask if they need prayer. Our daughter is a Sister who proclaims God's love each day by living her vows and by loving those who are most vulnerable. Another son and his wife love the Lord and are raising their four children to love Jesus too. They make their decisions by praying and letting the Holy Spirit lead them even to places they would rather not go. They willingly sold their home for less than market value to a single mom who has four young daughters and couldn't have bought a home otherwise. Fr. Cedric Pisegna has helped thousands to come closer to Jesus and live their faith more passionately by his mission and TV ministry.
Are we willing to give a witness to God's love too? Whether we help only one person find their way, that one person will be eternally grateful that we did. May we be ever open to sharing the great hope to which we are called by our words and more importantly by our actions.

Janice Carleton and her husband Jim live in Bainbridge Island, Washington,  and partner with Passionist Fr. Cedric Pisegna in Fr. Cedric Ministries. She is the mother of 4 grown children and grandmother of 6. Janice also leads women's retreats and recently published her second book: God IS with Us. Visit Janice's website at http://www.janicecarleton.com/ or email her at [email protected].