Scripture: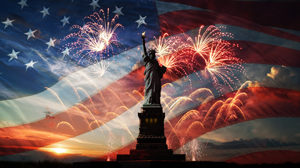 Hosea 2:16, 17b-18,21-22
Matthew 9:18-26
Reflection:
God's Love; Our Gift of Freedom!
As we celebrate July 4th / Independence Day in the United States, the "everyday" scripture readings speak to us of the depth and intensity of God's love for us.  Both readings encourage us to reflect and build upon our human experience of love, leading us to the freedom of a life of service of God and our sisters and brothers.
In the first reading from Hosea, the prophet implies that God's love is like that of a husband and wife:  enticing (almost seductive!), espoused forever, merciful, faithful, life-giving.  Our human experience tells us that even the most ideal human marriage is imperfect and open to growth; growth in love is a life-long commitment!  Hosea reminds us that God's love is perfect, the "ideal" in the best sense of the term.
And…God's love is best revealed in the person of Jesus, as we see in the Gospel selection with Jesus' loving concern for the sick and dying.  We hear of the sad situation of the synagogue leader whose daughter had died, his appeal for Jesus' help.  As Jesus goes to reach out to the daughter, a woman with an ongoing, serious malady boldly reaches out to Jesus and touches his cloak – and she is cured!  Jesus' words to the woman echo his words to the synagogue leader:  courage!  believe!  Jesus' love reaches out to all people — young and younger, important and ordinary, poor and rich…and He offers Life that lasts!
As we gratefully celebrate our independence and seek to best partner in promoting the well-being of our brothers and sisters around the world, we do indeed need Jesus' healing touch and encouraging word.  Sickness and death are all-too-evident today in the world's violence, injustice, hungers, homelessness, and apathy.  We have been blessed with faith in Jesus and his Crucified Love.  May that Love freely transform each of us and motivate us to proclaim the life and goodness and freedom that is ours as God's daughters and sons, as sisters and brothers in Jesus in our 21st century world.
We have reason to celebrate:  God is gracious – and merciful – and loving!
Fr. John Schork, C.P. is a member of the Passionist community in Chicago, Illinois.