Scripture: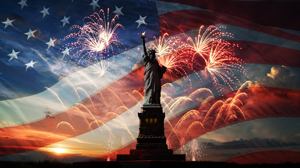 Genesis 19:15-29
Matthew 8:23-27
(optional readings
for Independence Day):
Isaiah 57:15-19
Philippians 4:6-9
John 14:23-29
Reflection:
Our Challenge:  Lives of Courage and Peace
Today the liturgical guidelines encourage us to use the special prayers for Independence Day, and to select from a variety of Scripture selections related to "public needs" and "social justice".
Interestingly, today's "regular" readings are meaningful.  They tell of God's directives to Lot and his family to run away from the punishing destruction of the evil people of Sodom and Gomorrah – and of Jesus' dealings with his fearful disciples during a violent storm as they sailed upon the sea.  God is both loving and just, powerful in dealing with the forces of evil in the world; God knows us well and provides for us even when we are doubtful and afraid.  As we today ponder the gift of our freedom and independence as Americans, it is God who journeys with us and challenges us to confidently face the ups and downs of daily life as faithful citizens of our country and of our world.  No small task!
The optional readings given for Independence Day highlight another dimension of our heritage and our mission in everyday life:  we are called to be people of peace.  Isaiah calls out for peace, especially for those struggling or dejected in spirit; St. Paul writes to the Philippians and reminds us to have no anxiety, but to daily turn to God in prayer for our personal and communal needs; Jesus at the Last Supper gifts his disciples, "Peace I leave with you; my peace I give you".  As we encounter in life the destructive power of evil and our human weakness, our faith in God fosters a sense of peace and perspective that gives us reason to celebrate and renew our commitment!
Jesus assures us of his love and gives us his peace – not simply total tranquility or the absence of suffering or uncertainty.  Jesus offers His peace that comes from the experience that God is with us, here and now, in all things and with all peoples — loving us unconditionally.  As contemporary disciples, we find meaning in the Cross of Jesus, as we seek peace and freedom in the hectic pace of life today, in our uncertainties and our suffering — and even in the violence and death which is so much a part of our culture.  With Jesus' unconditional love and encouragement, we each are free to face the challenges of daily life, and see each day as a real blessing.
May today's celebration of our United States "independence" help us be grateful and courageous in bringing about true peace, lovingly sharing our God-given blessings with all people!

Fr. John Schork, C.P. is a member of the Passionist community in Chicago, Illinois.