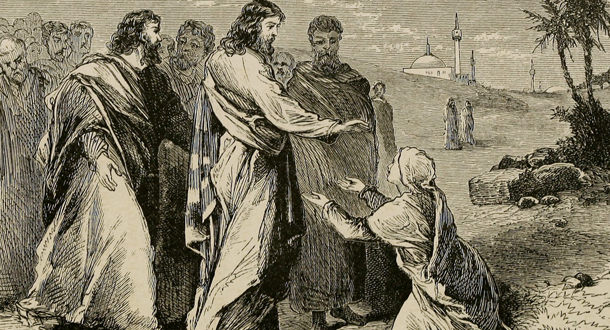 Scripture:
Genesis 28:10-22a
Matthew 9:18-26
Reflection:
Jacob then made this vow: "If God remains with me, to protect me on this journey I am making and to give me enough bread to eat and clothing to wear, and I come back safe to my father's house, the LORD shall be my God.
Genesis 28:
She said to herself, "If only I can touch his cloak, I shall be cured." Jesus turned around and saw her, and said, "Courage, daughter! Â Your faith has saved you."
Matthew 9:22
Do you trust God? I know I like to think I do. However, if I were to be fully truthful, I often question His guidance. It seems that sometimes when I am in discernment (trying to figure out what the heck is going on with my life) I say things to God like, "Dear Father, please tell me the way I should go. But, be aware, I'd like it to be this way!" That's not very trustful. In our first reading today Jacob only asked God to provide protection, bread, and clothing. I know that I have all these things. And yet I desire more. I look in my pantry and I see it is full of food. I look in my closet and see it's full of clothes. I look at my daily life and, again, if I were to be truthful, I have nothing to worry about.
And yet, I feel I need to tell God how my life is lacking. Now, that's not to say that there are not times that I have experienced the need of God in my life. I think very few of us have passed through this world without experiencing the loss of loved ones, serious illness, or other traumas that lead us to turn to God. Still, I often lack the trust that God is guiding my life. I pray that I can have the trust, and courage to rely on God to provide me with all that I need without my having to tell him what it is.
In addition to being an independent teacher (now online!), Talib Huff is on the retreat team at Christ the King Retreat Center in Citrus Heights. You can contact him at [email protected]