Scripture: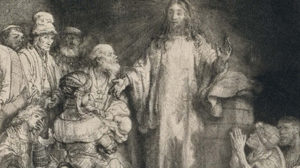 Hosea 14:2-10
Matthew 10:16-23
Reflection:
The backdrop of today's gospel is Jesus choosing and sending forth his disciples to preach, teach and heal in the towns and villages of Galilee.  In commissioning the disciples, Jesus warns them about persecutions they will face.  And he counsels them on how they are to respond: "so be as shrewd as serpents and simple as doves."
In the Greek, shrewd means to be wise, to be with insight, to comprehend a situation and to respond prudently.  And simple means to be unmixed.  It once referred to things like pure gold or unmixed wine.  And so it means to have purity of motive.
In the communities of evangelists Matthew and Mark, it was dangerous to be Christian.  Nero and the Roman Empire like wolves were persecuting them.  But for us today, how do we balance being both serpent and dove among wolves while proclaiming the gospel?  What does this look like?
On the eve of World War II, the Nazis, like wolves, were persecuting Jews.  One individual, Sir Nicholas Winton, like a shrewd serpent, saw where this danger was leading.  He quickly organized a rescue operation that saved the lives of 669 Czechoslovakian children from Nazi death camps.  He brought them to the safety of Great Britain.  After the war, like a simple dove, Winton drew no attention to his heroic humanitarian effort.  Indeed, it went unnoticed for more than 50 years.  But in 1988, while his wife was cleaning their attic, she discovered the records, the children's names and their parents, and those who harbored them.  At a surprise event to honor Winton, there sat many of the now grown children whose lives he saved.  They stood to thank him.  Dove-like, Winton said nothing.  He simply wiped away tears.
What does Jesus' commissioning mean for us disciples today?  After all, we are threatened neither by Nero nor Nazi.  To be sure, we face hostility.  To live and express our faith in our culture is to incite ridicule and accusations of intolerance and hate. Our temptation to behave like frightened sheep.
In such times, we are to heed Jesus' counsel.  We must discern the sign of the times; act prudently, proclaiming the gospel in the midst of growling wolves.  And we are to live out our faith boldly and selflessly.  In the Thomistic definition of Christian love, we are to will the good of the other – like serpent and dove.
Deacon Manuel Valencia is on the staff at Mater Dolorosa Passionist Retreat Center, Sierra Madre, California.