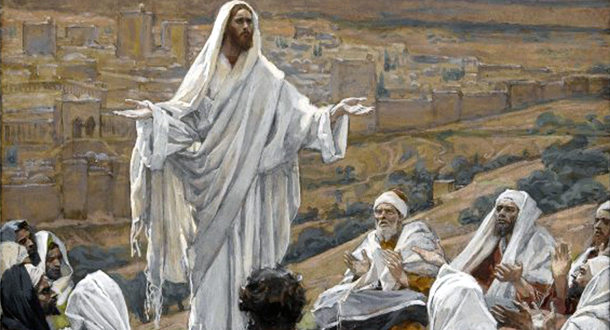 Scripture:
Hosea 10:1-3,7-8,12
Matthew 10:1-7
Reflection:
The Kingdom of Heaven is the Law of Love
There is a spiritual battle in this world, and it is all about the law of love. It's between the Lord's way of life (poverty, humility, and service) and the world, with its laws and values of wealth, vanity (excessive pride in or admiration in one's appearance and achievement) and pride (excessive concern for appearance). One leads to love, the other to death. What is your state of life? Will your heart become more a friend of Jesus and love? Will it be more poor, more humble, more dedicated to service? Allow the love of Jesus to take root in you.
In the first reading Hosea says to the people of Israel, "Sow for yourselves justice, reap the fruit of piety, break up for yourselves a new field, for it is time to seek the LORD, till he comes and rain down justice upon you." It's all about love. When compared to today's Gospel it is the same message. Love of one another. Jesus has authority to call back the sinners, the repentant, to Himself and heal them too.
Jesus summoned his Twelve disciples and gave them authority over unclean spirits to drive them out and to cure every disease and every illness." Reaching out to those who are hurt, and sick is what the disciples are doing. Jesus sent out these Twelve after instructing them thus, "Do not go into pagan territory or enter a Samaritan town. Go rather to the lost sheep of the house of Israel." Those lost sheep today are our fallen away Catholics. We can reach out to those who have fallen away. Jesus said, "The harvest is abundant, but the laborers are few." We can offer gentle instruction to those who do not know how to start again to live their Faith. We can show them how to begin again and start receiving the sacraments, the gifts of grace which come to us through the apostles and their successors. This can be done by our Bishops and Priest, but often, it will be ordinary Christians who point those lost sheep in the right direction. It's all about love.
The Lord sends us into spiritual combat. It is a fight to the death that he himself has undertaken, and one that we too are invited to identify as our own ultimate battleground, conscious that it is God's war. For it is a war waged "against the enemy of human nature." That is, in the language of Saint Ignatius, the Devil or Demon. It is also the war waged by  "the friend of human nature," the Lord Jesus, who wants to win us for God and to recapitulate in himself all that is good in creation, in order to offer it to the Father, to the praise of his glory. The Law of love will always prevail.
What is at stake in this war? To me it is whether in my heart, as well as in the heart of the Church and of humanity itself, the Kingdom of heaven will be established, with its law of love and the Lord's way of life: poverty, humility, and service. Or whether the kingdom of this world will triumph, with its laws and values of wealth, vanity, and pride.
It is very characteristic of St. Ignatius to have us contemplate the mysteries of the life of the Lord while at the same time inviting us, "to investigate and ask in what kind of life or in what kind of state his divine majesty wishes to make use of us. And if we have already chosen a state of life, we should reform it for the better." This is not a question of fulfilling one's responsibilities or positions of service but of something deeper and definitive: it is a matter of my state of life. And this should not be understood as an external form but as a vital principle of life. Again, I ask, will your heart become more a friend of Jesus? How can you become more like him, more poor, more humble, and more dedicated to service? In what state of life, or through what reform to your state of life, will the love of Jesus take definitive root in you? Does your heart have the law of love embedded in it? The Kingdom of Heaven is the Law of Love.

Deacon Peter Smith serves at St. Mary's/Holy Family Parish in Alabama, is a religion teacher at Holy Family Cristo Rey Catholic High School in Birmingham, and a member of our Passionist Family.