Scripture: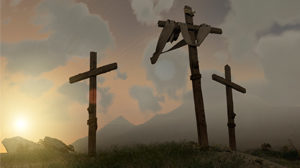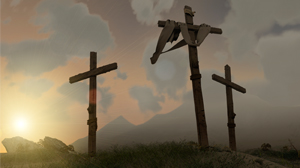 Genesis 44:18-21, 23b-29; 45:1-5
Matthew 10:7-15
Reflection:
After Our Lord performed the final miracle of the series that we have read in the last two chapters, the Pharisees say, 'by the prince of demons he casts out demons.' Jesus continues his ministry, and moved with compassion for the crowds whom he describes as torn apart and harassed like a flock of sheep without a shepherd, he addresses his disciples, empowers the twelve and sends them on a mission to the People of Israel.
They do what Jesus did. If Jesus is rejected can they expect better? We will hear that as a disciple identifies with Jesus doing his works, so we can expect to share also in Jesus sufferings.
Jesus is willing to suffer because of his compassion to alleviate the pain of the people.  As a shepherd he will lead them to good pasture and flowing streams, binding up the injured and carrying the little ones; a strait highway he will layout before them, and they will know security in a shepherd they can trust, one who calls them by name. All of these 'shepherd' things we can translate into the actions that we do as disciples caring for family, fellow workers, friends and enemies; they are our flock of the People of God.
We cannot escape the Cross, it is rooted in our earth and its shadow falls over all of us. But the one we follow has mounted the Cross and instead of shadow there is a light that overcomes darkness. As we are privileged to do the works of Jesus, and unable to skip sharing in the Cross as we share the shepherding work of Jesus, we trust that this Cross we will encounter is changed by Jesus forever by his victory of love.
We read for only a few days what is perhaps the most beautiful story in the Old Testament. It is difficult to read the story of Joseph without tears filling our eyes. It is so human, a heart breaking story, a story of the mystery of not loving. Although it would seem God is absent, that is not so, the sins of Joseph's brothers become a story of love. It is a story of forgiveness. Evil has been done and the one hurt sees God's presence. Joseph confronts evil and does what seems impossible, he forgives. The ones who hurt seem unable to believe they can be forgiven. In Genesis all that God does is good, but there is the painful revelation that we can choose not to love. Joseph shows us that choosing love is possible and the better choice. His forgiveness overcomes so much pain and sorrow in the hearts of his brothers. In the end we are left crying with Joseph because his great act of love is unaccepted. His brothers are unable to believe that he can forgive them.
We are called as disciples to embrace the Cross as we do our work, our ministries.  Looking at the Cross we see Our Lord who throws light over the shadow. Like Joseph's brothers we may expect less than what God's love gives us, especially forgiveness that touches the heart of our world. As our care for others finds us touching the Cross may we be forgiving to those who hurt us as we serve them, and lead them to the Shepherd who cares tenderly and forgives eternally, and who wants to invite them to come follow in his footsteps also.
Father William Murphy, CP, is the pastor of Immaculate Conception parish in Jamaica, New York.