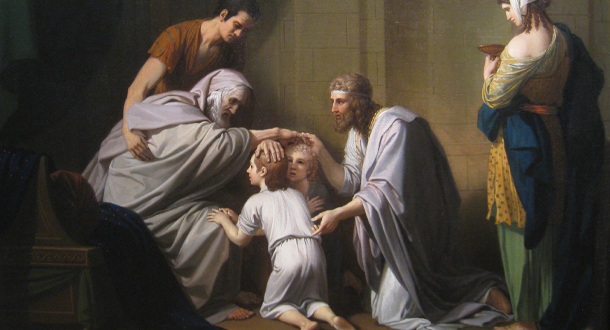 Scripture:
Genesis 46:1-7, 28-30
Matthew 10:16-23
Reflection:
Jacob, Guide for the Late Life Journey
This is a scene played out often enough. Father or mother in the car accompanied by the family and going to a foreign land, maybe the home of one of the children, or assisted care or nursing home. Jacob answers God's vision quickly, "Here I am." Egypt! Of all places in my old age to have to go. But Joseph is there. I must see Joseph with my own eyes. Joseph holds Jacob tightly around the neck weeping for a long time. "At last I can die now that I have seen for myself that Joseph is still alive."
Kathleen Fischer tells us that in the aging process we have a natural preparation for prayer. "The late life journey heightens the importance of the present moment, confronts us with darkness and loss, and leads us to probe the meaning of our life stories".
How many moments passed since Jacob said goodbye to young Joseph, and how much time was spent imagining a happy turn to the long ago sad event of Joseph's disappearance. Nothing else matters now in this moment of precious embrace with Joseph. It is like the prayer Fr. Padro Arrupe, S.J. who suffered a stroke that debilitated him for the last 10 years of his life:
'More than ever I find myself in the hands of God. This is what
I have wanted all my life from my youth. But now there is a difference:
the initiative is entirely with God. It is indeed a profound spiritual experience to
know and feel myself so totally in God's hands'.
Jacob knew gratitude.
Jacob knew darkness and loss. But he kept faith in the promise to return home. A promise kept by Joseph who buried his father in the cave in the field bought from the Hittites, where Abraham and Sarah, Issac and Rebecca, and Leah also rested.
His life had plenty of stories. Did he realize that the best one was being written during his final days? Jacob tells us elders today that we may draw strength and guidance from his later years. A poem is written from the woman's perspective, which Jacob would approve. He worked hard to keep his wives happy! They are a big part of his story, and we are all, each part of one another's stories. May Jacob invite us to probe the meaning of our stories….
Always she carries in the arms of her heart,
Uphill and down, and in all weathers the child she was.
And beside her walks the bride, striding with fire and passion,
Hiding the fear,
Still another comes- but slowly, the mother, laden, filled with joy.
Never alone, she walks accompanied by all her past.

-Anne Keith