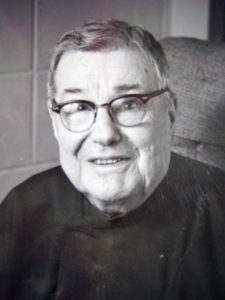 Memorial of Saint Justin Martyr
Scripture:
2 Timothy 1:1-3, 6-12
Mark 12:18-27
Reflection:
Many years ago when I was a Passionist seminarian studying philosophy in our Chicago monastery on Harlem Avenue, one of our "tasks" as students was to take turns in the evening visiting our elderly and retired members who lived in the small infirmary attached to the monastery.  Sometimes this meant simply sitting quietly by as one of our venerable members took a nap—at other times we heard an account of their latest aches and pains.  Among the visits I still cherish the most were the times I could spend with Fr. William Westhoven.  Fr. Bill had been a long-time missionary to China and had suffered there when the Communist government took over.  He was one of those people who always seemed to be full of energy and zeal, no matter how fragile his health became.  Sitting with him and hearing his mission stories always ended up being a pep talk, urging me and my fellow young Passionists to persevere in our vocations and to get ready to get out there and preach the gospel!
I thought of Fr. Bill, who has long since gone to his heavenly reward, when I read the selection from Paul's Second Letter to Timothy that is the first reading for today's liturgy.   Scholars debate whether Paul himself wrote this letter or whether it was penned sometime after Paul's death by a loyal disciple writing in his name.  In any case, the whole letter and especially this passage presents Paul speaking tenderly and with great encouragement to Timothy, his young co-worker who accompanied Paul on his missionary journeys.
Paul addresses Timothy affectionately as "my dear child" and states that he is "grateful to God" for Timothy and remembers him "constantly in my prayers, night and day."  Most of all, Paul wants to encourage his young protégé.  He reminds him "to stir into flame the gift of God that you have through the imposition of my hands."  Paul transmits his own sturdy and courageous spirit when he reminds Timothy that "God did not give us a spirit of cowardice but rather of power and love and self-control."  Therefore, one should "not be ashamed of your testimony to our Lord" and "bear your share of hardship for the Gospel with the strength that comes from God."
Paul recalls gratefully his own vocation as a "preacher and Apostle and teacher."  Paul is willing—as in fact was the case—to suffer for the sake of his ministry because of the strength that God gave him: "…I am not ashamed, for I know him in whom I have believed and am confident that God is able to guard what has been entrusted to me until that [final] day."
The early church kept this letter and circulated it because of its beautiful portrayal of Paul as he faced the end of his days as the great Apostle to the Gentiles.  At the conclusion of the letter Paul would speak peacefully as he neared the end of his life: "I have fought the good fight, I have finished the race, I have kept the faith.  From now on there is reserved for me the crown of righteousness, which the Lord, the righteous judge, will give to me on that day, and not only to me but also to all who have longed for his appearing."  But beyond the letter's portrayal of Paul and his care for Timothy, the early Christians wanted to take to heart the strength and encouragement of Paul's words.  No matter what our role may be—lay person, religious or priest—God has given us the same gift as he did to Paul and Timothy, to live and proclaim the gospel, and to do so with courage—in Paul's words, with "power and love and self-control."
Fr. Donald Senior, C.P. is President Emeritus and Professor of New Testament at Catholic Theological Union.  He lives at the Passionist residence in the Hyde Park neighborhood of Chicago.