Memorial of St. Anthony of Padua
Scripture: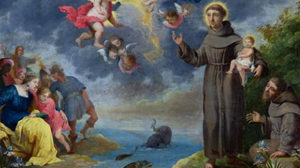 1 Kings 21:1-16
Matthew 5:38-42
Reflection:
Today we are invited to ponder the essence of nonretaliation. This is the fifth antithetical "you have heard it said…but I say to you" statement from Jesus. At first glance it is hard to take; one might think Jesus is suggesting we offer no resistance to evil, yet, he himself took it on throughout the gospels.
I might suggest there is more at play here and we would do well to sit with it before moving on to easier passages. I have heard it said, "An eye for an eye and the whole world goes blind," Leviticus 24:20 calls for equal reciprocity. As in his prior teachings there is a core message here which Jesus is inviting us to explore. For example, it was customary to strike another with the right hand on the right cheek. It was meant to humiliate and insult, turning the other cheek would not at all be expected and so might deny the aggressor his satisfaction and interrupt the cycle of violence.
Similarly a debtor who stands naked in court because he hands over not only his tunic but his cloak may cause a stir; Genesis 9:20-27 suggests anyone who views another's nakedness is shamed. Again, it changes the dynamic of the cycle of violence. Finally, if pressed into service –by a Roman soldier, for instance—to carry their packs and you walk further; the soldier might have penalties attached to him for exacting excessive service. Each time the dynamic is adjusted—a change is made.  Finally, we are to give from a place of abundance and with generosity. This is kingdom building for our world.
Jesus was not trying to confuse the listener; rather he was and still is inviting us into new ways of understanding how the Law is fulfilled.  One commentary I read suggested the thrust of the action is closer to "resist violently." As Christians, it our highest call to remove any obstacles preventing the love of God to flow through us into our world and avoid being sucked up in "eye for an eye" mentality. It fails us every time! If we change the cycle(s), we can offer hope for a new cycle of reciprocity and justice.  There is wisdom here—deep and profound—and healing. Our challenge is to be actively engaged and always looking for those ways to bring about the kingdom; to look deeply and to change the cycle; to counter evil with good. Love does this from the cross.
Today we celebrate the feast of St. Anthony of Padua, a Franciscan and Doctor of the Church. Along with his father, St. Francis, he became a channel of God's love.  I also remember praying to him for lost items!
Dear St. Anthony, please intercede for us this day so that we will always find our way to love and show love above all. Amen.
Jean Bowler is a retreatant at Mater Dolorosa Passionist Retreat Center in Sierra Madre, and a member of the Office of Mission Effectiveness Board of Holy Cross Province.