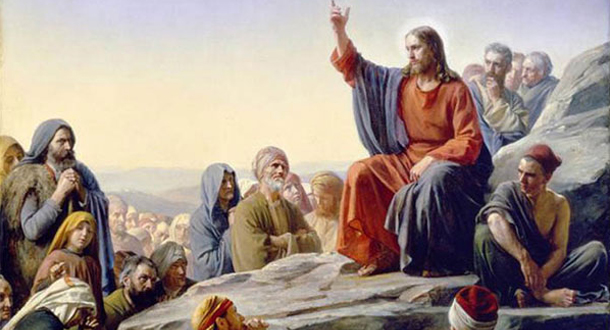 Scripture:
2 Corinthians 3:15-4:1, 3-6
Matthew 5:20-26
Reflection:
I've never murdered anyone.  Does that make me a good Christian?  Not by Jesus' standards.  In the Sermon on the Mount, Jesus presents his teaching with the same divine authority as that by which God gave the law to Moses on Mount Sinai.  This undoubtedly would have astounded the scribes and Pharisees, who saw themselves as the arbiters of the Mosaic law.
"…unless your righteousness surpasses that of the scribes and Pharisees, you will not enter into the Kingdom of heaven," Jesus tells his disciples.  The scribes and Pharisees equated righteousness merely with satisfying the outward observance of the law.
But Jesus called his disciples to go beyond that, beyond the letter of the law, into a deeper righteousness.  In this context, righteousness means obedience to God's laws.  If the disciples of Jesus are to enter into the reign of God, they will have to understand and obey God's law more deeply than do the scribes and Pharisees.
In the Sermon on the Mount, Jesus provides examples of the righteous behavior necessary to enter the Kingdom.  Does the law command us not to murder?  Jesus says that isn't good enough.  Sin doesn't just happen to us.  It first grows as a tiny seed.  Remove the attitudes and actions that lead to killing, and indeed, every obstacle to unconditional love, Jesus says.  Are you angry with your brother or sister?  Leave that sacrifice at the altar.  Go and seek reconciliation first.  At that moment, reconciliation trumps worship.
Jesus goes further.  Are you tangled in a legal feud?  Settle with your opponent quickly before you go to court.  If you do, Jesus says, you will in effect avoid the risk that the divine judge will render judgment against you.
I suppose I could claim to be a good Christian by pointing the fact that I've never committed murder.  Indeed, most, if not all of us could make a similar claim.  But then comes that pesky Sermon on the Mount where we learn that externals just don't get us very far.
What then is the good news here?  Just this: that we ought not to presume to proclaim the good news of the kingdom of heaven, unless the good news first penetrates our hearts and lead us to live according to God's ultimate intention — obeying the commandments of love and forgiveness.

Deacon Manuel Valencia is on the staff at Mater Dolorosa Passionist Retreat Center, Sierra Madre, California.