Scripture:
2 Corinthians 1:18-22
Matthew 5:13-16
Reflection: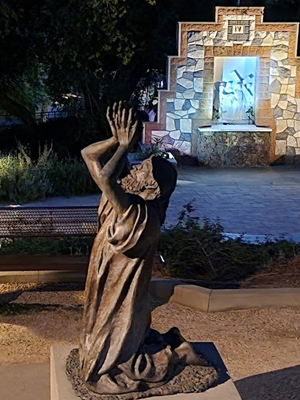 In our Gospel, Jesus tells his disciples that they ".. are the salt of the earth" (v. 13). Salt adds flavor to an otherwise bland or tasteless food item. It simply makes it taste better. However, Jesus is telling them that they are the spiritual salt of the world. In this context we can understand his comments about salt losing its flavor. It would be tasteless and of no value. The same applies to spiritual salt, it can lose its flavor without care and attention focused on maintaining its freshness. This section of the Sermon on the Mount follows Jesus' sharing of the Beatitudes, his teachings on how we are to live. To live those teachings, we must make our spiritual life a priority.
"Salt of the earth," is a common phrase often used in referring to certain people we know. They are not salt; yet they add flavor to our lives in positive ways. These are people who are faithful, loyal, vibrant, dependable, and much more. One might say that "yes" to the spiritual life was present in them.
"You the light of the world (v.14)." If we placed a candle under a bushel basket, it would be extinguished and be of no value. Light is a metaphor for faith. If we hide it, it will surely go out. Yet, if we use the flame to light other candles, the light is not diminished. Similarly, faith, once shared, is increased. We are not diminished in the sharing.
Salt and light are necessary for life, and Jesus uses these as similes to relay his missionary message. I believe Jesus was warning the disciples—and us—to be careful to protect their spiritual life.
A healthy spiritual life allows us to spread that message liberally where we live and work.
In our reading from the Second Letter to the Corinthians, Paul's words offer a similar message of commitment. "Yes," was in Jesus. He fulfilled all the promises of God with a resounding "yes" poured out for us. We are wrapped in Jesus' "yes" as a seal. In his "yes" we have been given the Spirit into our hearts. Can we protect our "yes" within us?
Being spiritual salt and light means our actions and words have meaning and bring life.
May we be salt for the earth, and light for the world.
Like St. Anthony, whose feast we celebrate today, may we find our "yes" daily. Amen.
Jean Bowler is a retreatant at Mater Dolorosa Passionist Retreat Center in Sierra Madre, California, and a member of the Office of Mission Effectiveness Board of Holy Cross Province.