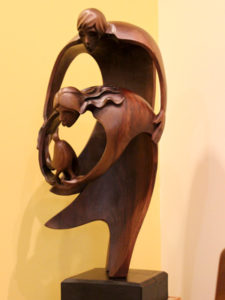 Scripture:
Proverbs 8:22-31
Romans 5:1-5
John 16:12-15
Reflection:
Today on the ecclesiastical calendar we celebrate The Feast of the Most Holy Trinity.  Today we also celebrate all the fathers on this holiday "Father's Day. "  In the Gospel Jesus is telling his disciples that He will be leaving them.  However He will not be abandoning them, but will send the Paraclete.  Some have called this periscope the "Peek A Boo Jesus! Passage."  In other words what Jesus is doing is something all father and mothers around the world play a serious game with their children called "Peek A Boo!"  The parents are teaching their children a critical lesson for life.  In a word, parents are teaching their children that even though their children do not see their parents, they are there and will be there if they should be needed.  Their fear will be transformed into "joy."
In our Christian life, there are periods when we feel abandoned and deserted. This period has been called the Dark Night.  In other words, there are these times when we are not able to feel God's presence.  Great mystics/saints have had this experience. Juliana of Norwich did for 18 years, Teresa of Avila did this for 20 years, St. Mother Teresa of Calcutta did this for 25 years, and Paul of the Cross Founder of the Passionists had this experience for 40 years.  These mystics grew to know that these periods "These dark nights of the soul held profound  secrets.  It is surprising, but St. Mother Teresa of Calcutta said that she "embraced the darkness."  Blessed Elizabeth of the Trinity had a prayer many have found helpful to "embrace" this absence of God:  "O Triune God so live in me that all I think and all I  say  may be your thoughts and words this day!"
John's passage is calling the Disciples of Jesus to a profound recognition of the Community.  He is calling them to a profound life of Holiness.  If they love God and keep the teachings of Jesus they will experience the Paraclete, who will not abandon them.  All people are called and capable of living a life of holiness.  All are called and capable of a life of contemplation. These realities are available to us as we keep alive the memory of the Passion.

Fr. Ken O'Malley, C.P., is the local superior at Holy Name Passionist Community in Houston, Texas.