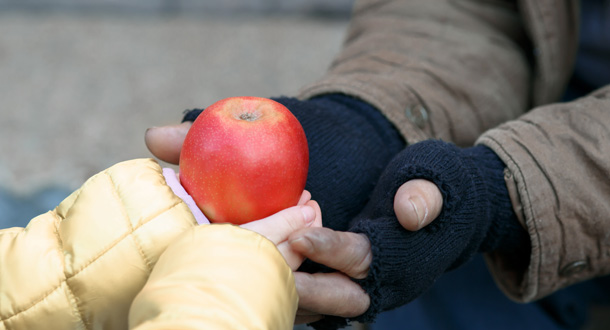 Scripture:
2 Corinthians 6:1-10
Matthew 5:38-42
Reflection:
The gospels operate by a different logic, a startlingly different understanding of what makes sense, and nowhere is this more vividly displayed than in Jesus' Sermon on the Mount from which today's gospel is taken. Once again Jesus calls for a massive reversal in our customary ways of thinking. Outside of the world of the gospel, when someone treats us unfairly—when they injure us by thoughts, words, or actions—it seems perfectly reasonable to respond with more of the same. In a rough and tumble world, the logic of "an eye for an eye and a tooth for a tooth" seems eminently sensible. Similarly, at a time when it seems only prudent to put our own needs before the needs of others, to share with a neighbor in need before estimating if we can afford to give anything at all, strikes us as terribly irresponsible.
But, once again, Jesus turns our usual patterns of thinking and valuing upside down. In place of always settling scores, Jesus demands nonviolence and peace, forgiveness and reconciliation. And when Jesus insists that we offer a pestering neighbor our "cloak" as well as our "tunic," he's asking that we replace the language of "I" and "mine" with "we" and "ours." By the logic of the gospel, instead of clinging tightly to what we own, we should regularly look for ways to share it; indeed, in the world Jesus envisions (the world he calls the reign of God), we should customarily give away more than we keep.
The Sermon on the Mount presents Jesus' outline for a truly good and happy life—and we spend most of our lives resisting it. It's hard (and more than a little scary) to replace retaliation with nonviolence, grudges with forgiveness, and our own comfort and security with joyful generosity. But deep down we know Jesus is right. So it is that our journey to fullness of life begins when we first let old ways of life die.

Paul J. Wadell is Professor Emeritus of Theology & Religious Studies at St. Norbert College in De Pere, Wisconsin, and a member of the extended Passionist family.