Scripture: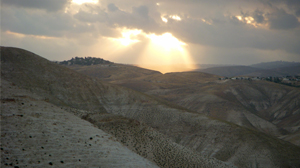 2 Corinthians 6:1-10
Matthew 5:38-42
Reflection:
Behold, now is a very acceptable time; behold, now is the day of salvation. 2 Corinthians 6:2
Life can be daunting. It is never smooth sailing. Those of us who want a life without problems and obstacles get frustrated when we are faced with many everyday obstacles, not to mention the extraordinary ones that just appear out of nowhere.
This last week, I had a weekday morning Mass in a nearby parish to our Passionist Retreat Center in Sierra Madre, California. Although I had been to the parish Church several times, the daily Mass is celebrated in small chapel, detached from the Church. The first morning I get there, the parking lot is empty and was welcomed by an attendant and taken to the Chapel. I had to hurry back because of a meeting, only to find a detour sign that went up during the half hour I celebrated Mass. Unexpected obstacle.
A couple of mornings later, I drive into the parking lot, and there are all kinds carnival rides being taken down from big trucks and set up. There were now many obstacles to the entrance of the Chapel that hadn't there yesterday. Then on Friday morning, it was impossible to park and it was very difficult to get to the Chapel.
That experience became my homily and the 40 people who come to Mass knew exactly what I was talking about. One day we find ourselves very close to God. Days later, we feel so far away from God, unable to reach the God we know and love, just because there are so many obstacles that get in the way.
St. Paul talks about those kinds of obstacles in his life, in our first reading of today's Mass. He talks about afflictions, hardships, beatings, constraints, imprisonment as outside obstacles. He goes on to name a few inner obstacles: how to be more kind, more patient, more pure, more understanding, as he struggles to live faithfully with daily obstacles and his inner inclinations.
He prefaces all of this by saying: "Now is the acceptable time. Now is the day of salvation". What faith! What inspiration! What Paul is telling me is that I need to be close to God in good times and in bad times.
We need to walk with the Lord as we encounter life. It is precisely at these times, the times of trouble that everyone faces daily, and those unexpected troubles that just pop up in front of us, that takes us to a place of deep faith. I am reminded of another one of Paul's sayings: "We walk by Faith and not by sight!"
There is never a perfect time to be with God, to be kind and merciful, to be loving and caring, to be forgiving and joyful. When we can learn to live this way, surrounded by disappointment, failure, struggle, injustice, alienation, rejection, then we begin to appreciate Jesus' Sermon of the Beatitudes, which we have been hearing in the Gospels for Mass, over the last couple of weeks. Let us make the Beatitudes our Charter for Life!

Fr. Clemente Barrón, C.P. is a member of Christ the King Community in Citrus Heights, California.