Scripture: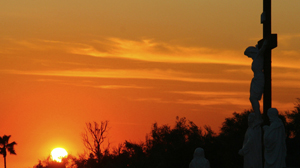 2 Corinthians 12:1-10
Matthew 6:24-34
Reflection:
"Therefore I tell you do not worry about your life. . . Can any of you by worrying add a single moment to your life's span?. . .Do not worry about tomorrow, tomorrow will take care of itself."
Matthew 6:25, 27, 34
I am forever grateful that God taught me I could stop worrying with His help. He also showed me that when I did worry, I wasn't trusting Him. I kept thinking, but I can't help it. . . it's just the way I am! Worrisome thoughts definitely come into our minds all by themselves. But then it's up to us to notice that we've started to worry and make a decision to change our thoughts. We can learn to replace our worry with praise and with thoughts of God's providence. The first step is to be aware of our thoughts so that we can turn to God for help.
I remember when our second son Jerry was in high school and was having bad headaches. I took him to have an MRI and as we waited for the test I started to worry about what this might mean – maybe he had a brain tumor, maybe there was nothing the doctors could do for him, etc. But then I chuckled and thought, NO! God is here with us, God has a wonderful plan for Jerry's life. No matter what happens, He will be with us and see us through. He is an "ever-present help in time of trouble." As soon as I changed my thinking, God's peace enveloped me and I stopped worrying. He loves us, and He will always be with us. We can face anything when we face it with God! (Jerry was fine by the way, and his headaches eventually went away.) We don't ignore our worries, or pretend they don't exist, rather we take them to the Lord and give them to Him
I love this quote by Corrie ten Boom: "Worry does not empty tomorrow of its troubles, it empties today of its strength." Not only is worry fruitless, but it can also be harmful both physically and spiritually. It has been shown to cause numerous health problems including ulcers, migraines, depression, sleep disturbance, and heart problems, because of the stress it puts on the body. There are simply no benefits to be gained by worrying. Join me and let God help you give it up now!
Janice Carleton and her husband Jim live in Portland, OR and partner with Passionist Fr. Cedric Pisegna in Fr. Cedric Ministries. She is the mother of 4 grown children and grandmother of 6. Janice also leads women's retreats and recently wrote her first book: God Speaks to Ordinary People – Like You and Me. Visit Janice's website at www.janicecarleton.com or email her at [email protected]