Scripture: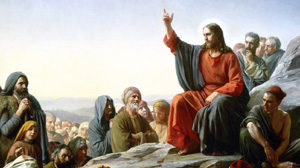 2 Kings 19:9b-11, 14-21, 31-35a, 36
Matthew 7:6, 12-14
Reflection:
"Do to others whatever you would have them do to you.  This is the Law and the Prophets."
With this very familiar and utterly simple imperative, Matthew the Evangelist continues the Sermon on the Mount that begins in Chapter 5 and runs through Chapter 7.  Unlike the Gospel of John where we find dense theological teachings and images, like the Bread of Life discourse, here in Matthew's Gospel Jesus is guiding us on how to not only be hearers of the Word, but doers of the Word.
In these three chapters, we hear what it means to live as sons and daughters of God.  We begin with a set of attitudes and values in the Beatitudes and move through lessons on a wide range of topics that touch on right living.  The topics are practical and real.  They touch on money and marriage, almsgiving and fasting, and on praying.
Living as disciples of Christ is a day-to-day adventure made up of putting one foot in front of the other, one decision after another.  That narrow gate we read about in today's Gospel can make many of us cringe.  It seems to contrast with an image of God as all-welcoming.  But perhaps it's not about who gets in and who does not.  Rather, it's about focus.  Keeping our hearts and minds focused on where we want to go will determine what we choose do each and every day.  The whole of the Sermon on the Mount is a collection of teachings that help form a pattern of thought and behavior that will lead us to that door that opens to life with God.
I have a vivid memory of sitting on the landing of the front stairs learning how to tie my shoes.  Over and over again with intense focus, I practiced getting those laces tied right.  Today, I don't think about how to tie my shoes.  I just do it.  But the piano is a whole other story.  Years of lessons coupled with putting off practice has given me an appreciation for the piano but no skill at playing.  I thought I wanted to play – and wish now I had then the focus to practice – but I didn't integrate practice into my life.  So I can't play.
It's not our words or good intentions that the Lord wants to review with us.  It's what our faith and our love of God leads us to do each day with the gifts we have been given.  A good place to begin might be to ask when on the highway, at the store, or at work, "Am I doing to others today what I would want them to do to me?"

Robert Hotz is a consultant with American City Bureau, Inc. and is the Director of The Passion of Christ: The Love That Compels Campaign for Holy Cross Province.