Feast of St. Paulinus of Nola, St. John Fisher, and St. Thomas More
Scripture: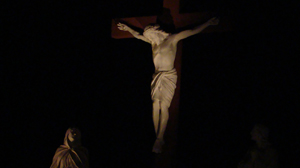 2 Corinthians 11:1-11
Matthew 6:7-15
Reflection:
Each one of us has known one or more people who tend to "babble on" when we are speaking with them.  I had a cousin about whom the family used to say, "If you ask her how she is, be sure you have an extra 30 – 45 minutes to let her tell you."  She was a very beloved cousin and her ability to talk your ear off was one of her endearing qualities.  Hers was a meaningful "babble" for our family.  Our only hesitation was that we sometimes received too much information.  Apparently, Jesus had thoughts about "babbling" as well.  I would suggest, He was taking aim at meaningless talking, i.e. words spoken just for the sake of hearing oneself talk.  Jesus is warning against the sheer multiplication of words by some who seem to believe that somehow these will back the Lord God into the corner and not let Him out until He answers the prayer in a satisfactory manner.  Jesus gives us an antidote to the run-on prayers to which He is referring.
"This is how you are to pray."  Then Jesus teaches us the Our Father.  Many have written books on its meaning but for now, we reflect on it for a little while.
The opening words tell us a great deal.  "Our Father who art in heaven…" reveals an important nature of this prayer.  The personal pronoun is plural and will remain plural throughout the prayer.   This is not primarily an individual's prayer but rather a communal prayer.  This is a prayer of God's family and we are always to pray it, whether alone or together, conscious that we are one member of a much larger family.   We are one in seeing our God as a Father, meaning God is close and loving as a father.   At the same time God is in heaven revealing God's majesty and divinity even while He is father to us.   Jesus teaches us to pray for the coming of and the fullness of the Kingdom of God.  For us who believe in Jesus, this is our destiny, to be citizens of the Kingdom.  The path to the Kingdom is for God's will to work its way through the pathways of life on earth as it is in the Kingdom.  It is insufficient to know God's will.  The divine will must become the guide of our lives.  It must be embraced by each of us and construct the pathways along which we are to walk.  Seeking the divine will can be difficult.  Following it may be even more difficult.  To understand this, all we need to do is ask St. John Fischer and St. Thomas More about this part of the prayer.
Now we move into a prayer of petition, seeking from the Lord God what we need most in life.  "Our daily bread" certainly brings to mind our need for the Eucharist in life as our source of sustenance and strength.  Could it mean more?  Should we not be looking for the daily bread of God's Word for our lives?  Are we not able to ask for the bread of encouragement, affirmation, and companionship with God?  Shall we not seek the bread of wisdom and enthusiasm in living out the mind and heart of Jesus in our own relationships and life circumstances?  The bread multiplies and nourishes.  There is much to be had.  A second need we all experience is the necessity of forgiveness for our transgressions against God and each other.  We petition God's forgiveness for ourselves knowing full well that our forgiveness carries with it an essential condition.  We must forgive each other as God forgives us.  This is a very powerful request mostly because it is so very difficult for us when we are hurt, betrayed, or even overlooked.  How do we find a way to leave our wounds behind?  We cannot pretend they are not there yet we must find the path to peacefulness with what has been.  Jesus reiterates this at the end of today's passage.  There are no loop holes in this prayer, in this way of life.  Perhaps this is part of the Our Father precisely because it is so difficult and we need to be reminded over and over again that we are in need of God's grace to live this out.  Once again, we may be able to find insight about this as we look to St. John Fischer and St. Thomas More living this imperative at the very threshold of their entrance into eternal life. We cannot do it alone.
We end the prayer with a request to be free of temptations and all evil.  While this is an obvious recognition of our own weakness, it is also an acknowledgement of our determined dedication to live the Christ life.  We are asking for all the grace and direction we need to go forward in life with the mind and heart of Christ as the core of who we hope to be and will be by the grace of God.
Today's gift of the "Our Father" has few words, but words revealing a fullness of meaning.  We discover the fullness of who God is for us and how we, united to God and each other through the Lord Jesus, are guided and directed to the fullness of who we are to be.

Fr. Richard Burke, CP, is a member of St. Paul of the Cross Province.  He lives at St. Ann's Monastery in Scranton, Pennsylvania.