The Nativity of Saint John the Baptist
Scripture: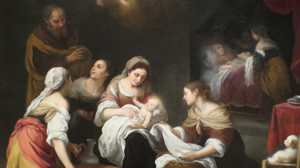 Isaiah 49:1-6
Acts 13:22-26
Luke 1:57-6
Reflection:
"John is his Name" Feast of John the Baptist The name John comes from two Hebrew words.  Hanna means free gift, or unmerited generosity and the name for God, Yahweh.   John was a gift to us from God's kindness.   My mother when distracted use to call me my brother's name.  I knew I was in no immediate danger.  But when she called me by my full Christian name Robert John I knew she was dangerously focused on me.  John the Baptist is a wonderful gift God gives us.   But so is each one of us.   Our middle name should be John, God's gift.
We are all very gifted.  I am sure we will never appreciate how blessed we are.  Two aspects are very important to consider.   Our gifts are not the same.  Our gifts are not just for ourselves.  There is an occupational hazard to underestimate gifts in ourselves or others.  We indeed appreciate the special talents that people have, but their gifts in no way diminish those different blessings in others.
There is a story of four passengers on an airplane.  There was a famous surgeon, a brilliant professor, an aged priest, and a college student.   The plane had engine trouble and was going to crash.  Unfortunately there was only 3 parachutes for four people so an animated discussion began as to who gets the parachutes.   The famous surgeon said since he saved so many lives he ought to have one and took one and jumped out of the plunging plane.  The brilliant professor said it would be a tragedy if the world was deprived of his intelligence and take a pack jumped out of the plane.   The aged priest said he believed in the next life and was old.  He told the young man to take the last parachute as his whole life before him.   The young man replied that there were still two parachutes left.  How can that be? The priest said.  Well, answered the college student, the most brilliant man the world grabbed my backpack and jumped!
The lesson is simple.  We need of gifts of others if we hope to live successful lives!  No matter how insignificant your gift might seem, it is important to appreciate it and not too arrogant to seek the gifts of others.
By the same token we must understand our own gifts, not just to be admired, but to be a gift to others!  Is your middle name John?
Fr. Bob Weiss, C.P. preaches Parish Missions and is a member of the Passionist Community in Louisville, Kentucky.