The Nativity of Saint John the Baptist
Scripture: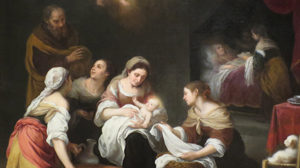 Isaiah 49:1-6
Acts 13:22-26
Luke 1:57-66
Reflection:
"He will be called John." Luke 1:60   The Hebrew name for John is two words put together.  One is khä·nan' which means gracious and the other is the Hebrew sacred word for God, Yahweh.   What a beautiful name to start the ultimate story of God's affectionate intervention into our lives!   Everything for everyone begins and ends with God's gracious kindness!
Sometimes John the Baptist can strike us as a little scary.  "So he began saying to the crowds who were going out to be baptized by him, "You brood of vipers, who warned you to flee from the wrath to come?" Luke 3:7  But his task was to clear the path of the filth of sin so to open the door to a forgiving and caring God.  The Holiness of God demands conversion from the refuse of immorality.
With the beautiful encouragement of God's mercy by Pope Francis we also must be attentive to the first sermon of Christ. "Jesus came into Galilee, preaching the gospel of God, and saying, "The time is fulfilled, and the kingdom of God is at hand; repent and believe in the gospel."   To preach the mercy of God also means eventually to remove the virus of Sin.   We sinners can indeed be touched by God's grace before our conversion but run a deadly risk of losing God's gift by not turning away from sin after his offer of mercy.
John the Baptist leapt with joy in his mother's womb at the presence of the unborn Jesus.  From his birth he experienced the ecstasy of Jesus.  John's ministry was one of the good news of God's stunning care for the human race.  Even his name meant God is kind.   But salvation ultimately means the destruction of sin.  "you shall call His name Jesus, for He will save His people from their sins."  Matthew 1:21 We, like the Baptist, must in our ministry try to disinfect the virus of sin in our society to clear the path for God's mercy.
Fr. Bob Weiss, C.P. preaches Parish Missions and is a member of the Passionist Community in Louisville, Kentucky.