Scripture: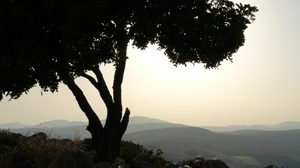 Lamentations 2:2, 10-14, 18-19
Matthew 8:5-17
Reflection:
Redemption Continues
Centurions were the regular soldiers of the Roman army; they were the glue that held the army together — disciplined, loyal, steady in action, reliable. Whenever they are mentioned in the New Testament, they are spoken of with respect and honor. Remember the centurion at the foot of Jesus' cross who first cries, "Truly this was the Son of God!"? Or Cornelius, the first Gentile to convert to "The Way"?
But there was something distinct about the centurion in today's Gospel from Matthew — his attitude toward his servant, a slave. Often the vanquished people of Roman imperialism, slaves were mere objects to be possessed in Jesus' time, and they had no rights. But the gentleness of this centurion, coupled with his love for his servant, clearly moved Jesus.
Perhaps you have noticed a similar kind of transformation, redemption if you will, in recent news reports. Religious leaders in Orlando and across the country have brought a new sensitivity to the Latino and LGBTQ communities. In the face of horror and paralyzing sadness, we understand today's first reading:
Cry out to the Lord;
moan, O daughter Zion!
Let your tears flow like a torrent
day and night.
Bishop Robert Lynch of St. Petersburg writes, "…sadly it is religion, including our own, that targets, mostly verbally, and often breeds contempt for gays, lesbians and transgender people. Attacks today on LGBT men and women often plant the seed of contempt, then hatred, which can ultimately lead to violence. Those women and men who were mowed down Sunday were all made in the image and likeness of God. We teach that. We should believe that. We must stand for that."
 This chemistry between centurion and slave, or Bishop Lynch and his flock, is what gives me hope.  As the final line into today's Gospel thunders, "He took away our infirmities, and bore our diseases." Redemption continues.
In the introduction to her book, "Team of Rivals: The Political Genius of Abraham Lincoln", historian Doris Kearns Goodwin states, "…after winning the Presidency, (Lincoln) made the unprecedented decision to incorporate his eminent rivals into his political family… The powerful competitors who had originally disdained Lincoln became colleagues who helped him steer the country through its darkest days."
 Such leaders, woman and men, civil and religious, are still among us. Redemption continues.

Fr. Jack Conley, C.P. is the director of the Office of Mission Effectiveness.  He is a member of the Passionist formation community at Catholic Theological Union in Chicago.