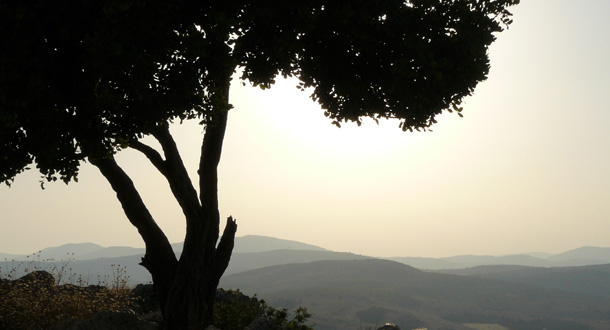 Scripture:
Genesis 15:1-12, 17-18
Matthew 7:15-20
Reflection:
In our home growing up, my father asked us to apply the "smell test" to life's situations we might find ourselves in.  "Take a whiff," he'd tell us.  "If it stinks, it's probably rotten."  We all know when milk has soured or meat is rotting.  Our noses are pretty good at detecting something gone bad, and this is particularly true about human behavior and being in situations that just don't seem right.
It does not take long to see the hurt, the suffering, the hunger or the violence that plagues our world.  We don't have to look far to see ruined fruit fall from diseased trees around us.  Our noses can pick up pretty quickly the smell of rotten human behavior.  At times, as we all know, that rotten smell even comes from within when we say or do something hurtful or unkind or just plain wrong.
The lyrics of British pop singers Pet Shop Boys strike me as wise: It is not easy, but don't give up now. It is not easy.  Happiness is an option. That's the name of the song, Happiness is an Option.  Unlike the diseased tree in today's gospel, we can choose to bear good fruit.  We can choose to make choices that improve the lives of those around us.  Being happy and bringing happiness to others is indeed an option.
Perhaps we can better apply the smell test to the circumstances of our lives.  We often think we cannot make a difference in the world, that all we can do is plug our noses and put up with the stench.  That resignation is certainly the work of the evil spirit.  We can make a difference with our words and actions. We can distance ourselves from those who tear others down or whisper vicious gossip.  We can name the injustice of domestic violence or unbridled greed.  We can feed the hungry and clothe the naked and visit the sick – maybe not every single person who is hungry, naked or sick, but one or two certainly.  And simply exercising our option to be a happy person can much improve the air quality for those around us.

Robert Hotz is a consultant with American City Bureau, Inc. and was the Director of The Passion of Christ: The Love That Compels Campaign for Holy Cross Province.