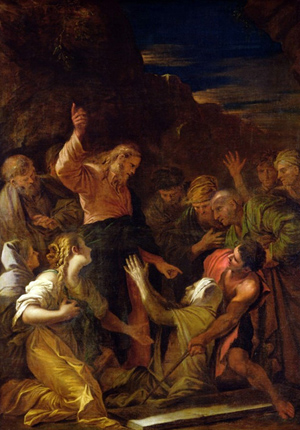 Scripture:
Reflection:
Chapter 8 of the Gospel of Matthew contains a marvelous array of healing stories that tie to discipleship. Today's story of the healing of the leper is followed by the cure of the centurion's servant, Peter's mother-in-law and the two possessed men (referred to as "demoniacs"). Each of these stories ends with references to discipleship. The cured leper is to show himself to the priests; the gentile centurion is described as one of great faith; Peter's mother-in-law rises from her sick bed to wait on Jesus; and witnesses to the cure of the demoniacs race to town to tell the news.
Interesting, isn't it? Healing leads to following. It is not hard to see our life today mirrored in this gospel.
I have always been particularly intrigued by the leper's request that begins with, "Lord, if you wish, you can make me clean." If you wish? What may seem a muted response, Jesus says, "I will do it." The same story in the Gospel of Mark has Jesus respond more emphatically: "Moved with pity, he stretched out his hand, touched him, and said to him, "I do will it. Be made clean."
"Of course, I want to," we can hear Jesus say. Of course, I want you to be made whole. How can Jesus not want to share the fulness of God's life with those who suffer, who are excluded from society, or seen as outsiders or "different" by those who believe they are the chosen ones.
The healings seem to be a precursor to the more important work of proclaiming the Good News that Matthew shares in Chapter 11 when the disciples ask if Jesus is the One they have been waiting for, that is, the Messiah. Jesus tells them to go tell others what they know: "The blind receive sight, and the lame walk, the lepers are cleansed and the deaf hear, the dead are raised up, and the poor have the gospel preached to them."
In this time of economic and social unrest, when so many are sick and dying, when whole communities feel left out or worse, we need to cry out to the Lord. And we will surely hear him say, "Of course I want to heal you." But we first must know what we truly want and then make our plea to Jesus.

Robert Hotz is a consultant with American City Bureau, Inc. and was the Director of The Passion of Christ: The Love That Compels Campaign for Holy Cross Province.