Scripture: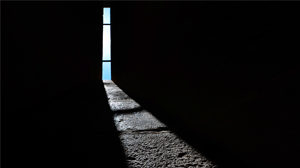 Amos 2:6-10, 13-16
Matthew 8:18-22
Reflection:
"When Jesus saw a crowd around him, he gave orders to cross to the other shore."  A disciple said to him, "Lord, let me go first and bury my father."  But Jesus answered him, "Follow me, and let the dead bury their dead."
Wow, not enough time to bury my dad and then cross to the other shore?  This story from the gospel of Matthew certainly underscores the urgency of the Kingdom of God.  From what I've read and understood, this is "mindfulness" on steroids!
The Kingdom of God demands an attention to the present moment that most of us do not achieve in our everyday lives.  There is an urgency in the words of Jesus that explodes with the force of an almost unreasonable demand.  These words are meant to stun us from our complacency and shock us into the realization that the Kingdom of God is now!
Thinking about the past or worrying about the future is not being immersed in the call to awareness we see in today's reading from Matthew.  As I reflect on this call to action I am reminded of all the distractions in our world which keep us from being present to the immediate reality of the Kingdom of God.  I am far from being so mindful as to know what my real and immediate priorities are as a follower of Jesus.
Join me today in reflecting on the reality of the Kingdom of God in the present moment.  Peace be upon us all.
Terry McDevitt, Ph.D. is a member of the Passionist Family in Louisville, Kentucky.