Scripture: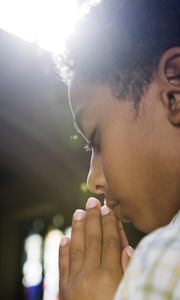 Wisdom 1:13-15; 2:23-24
2 Corinthians 8:7, 9, 13-15
Mark 5:21-43
Reflection:
As I prepare to write this reflection, our world has once again been rocked with a senseless act of violence.  Nine people were shot and killed a few days ago at the Emanuel African Methodist Episcopal Church in Charleston, SC.  A 21 year old young man, obviously misguided, entered the church proper, sat with his intended victims for almost an hour, and then proceeded to open fire and kill innocent people attending a bible study. The residents of Charleston and indeed the nation are once again asking the question, 'Why"?  President Obama joins other leaders across the country in expressing sympathy for the victims and outrage at the never-ending violence.
In the meantime we hope and pray for all who mourn and grieve for their loved ones who have died and hope they find comfort in their faith and trust in a God who takes care of us all.  It is this same faith that we hear about in the scriptures today.  The faith of the young woman who suffered for 12 years gave her the courage to ask for healing.  The father of the young girl who lay dying was also a person of deep faith who trusted Jesus to heal his daughter.
We all know people of faith, great and small alike.  We ourselves rely on this gift to see us through the many trials and challenges of life.  It is faith that gives us the courage to try and right the wrongs and to challenge unfair systems. Jesus walked in faith as he ministered to the woman with the hemorrhage and the young girl who lay dying.  This was going against the norms of society, against the law of the land.  In associating with those who were ritually impure, he took the risk of becoming impure himself.  He was a man of faith who trusted in a God who broke down barriers instead of building them up.
Sometimes we are called to step out in faith, against injustice, racism, sexism, and all the other 'isms' that take away other peoples' dignity and self-worth.  Faith gives us the ability to see the glass half full when others see it half empty or bone dry.  Leading a faith-filled life has helped me to enjoy the wonder and awe of God's blessings and share that spirit with all those I have the opportunity to minister with.  Faith buoys me up on the rainy days and wraps me in a bear hug of sunshine and happiness when blue skies surround my world and that of those I love and care about.  It's a precious gift that I thank God over and over again for.
May we all give thanks for this gift of faith and always be willing to share it with others.
God bless the people of Charleston and all places where violence runs rampant.
Theresa Secord is a Pastoral Associate at St. Agnes Parish, Louisville, Kentucky.