Scripture: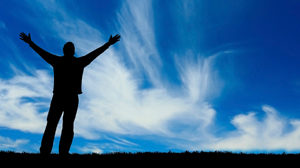 Amos 3:1-8; 4:11-12
Matthew 8:23-27
Reflection:
"Why are you terrified, O you of little faith?"  Once again, Jesus has to chastise the disciples for their seeming lack of trust and faith in him!  In retrospect, we really aren't any different from the disciples in this regard!  Like them, we know deep down that Jesus is in charge, always there for us and trustworthy and faithful. As the frail human beings we are, we forget, we jump to conclusions, we quickly judge, we just plain mess up!  The scriptures are filled with the good news that Jesus is all about love, goodness, faith, trust, forgiveness.  He always has our back even when we don't want to believe it.  It's easy to trust in his goodness and love for us when things are going the way we want them to be.  But, the first little storm that comes our way we get all up in arms and cry " WHY?" and fall into despair!
As people of faith, people who have been given this great gift of love from God, our loving parent, it is time to put that faith in action!  Faith cannot be taught, faith has to be caught!  Caught up in the way we live, the way we minister, the way we celebrate as believers.
With the recent tragedy in Orlando, there are many who are crying, WHY? HOW is it possible that a hate crime such as this can happen in the land of the free and the home of the brave?!  How do people of faith react to the violence committed against a group of people who may be different from us?   How do people of faith deal with a perpetrator so consumed with hate that drew him to commit such a horrendous act?!
As people of faith we can do many things:  First, we can hold all the victims, their families, as well as the perpetrator and his family in PRAYER!  I can hear Jesus saying to us, "you are dismayed, even terrified, but have faith in me and faith in my love for all of you, stay connected to me and trust that love and share it with all you meet."  Secondly, we can support our brothers and sisters in the LGBT community, letting them know through our love and support that they are loved by us and by the God who created them!  Third, we can be more proactive faithful citizens in support of gun control legislation and electing leadership who have the welfare of all citizens as their focus. Lastly, as Catholics, we need to support our leaders who have the courage to follow the example of Pope Francis in affirming the dignity of all people regardless of gender, race, culture or beliefs.  At the same time, in following the example of Jesus in chastising his disciples in today's gospel,
"Why are you terrified, O you of little faith?"
We as people of faith must challenge those church leaders who remain silent, who refuse to speak out for the dignity of all humankind when they are absent at the gun control lobby, the borders that welcome the immigrant and refugee, and the pride festivals held throughout the nation.
In the words of that familiar hymn, We Walk by Faith,
We walk by faith, not by sight/
No gracious words we hear, Of him who spoke as none e'er spoke./
But we believe him near.
May we continue to walk in faith with the sure and certain hope that God walks with us!  Amen.
Theresa Secord is a Pastoral Associate at St. Agnes Parish, Louisville, Kentucky.